Porte hoping for home win in Worlds TT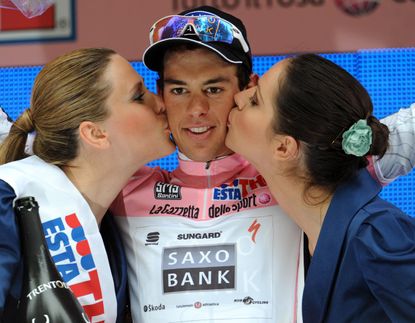 The Australians are behind their home favourite Richie Porte for tomorrow's time trial as evident by the early road paintings: Richie Porte Power.
Porte is back in Australia for the first time since the start of his first professional season, since he won a stage at the Tour of Romandy and finished seventh at the Giro d'Italia.
"There is a bit more pressure, but I am up to it. It is not going to change the way I ride my time trial," said Porte. "I am still going to be full gas tomorrow."
Tomorrow, 25-year-old Porte will be up against the experts: Brit David Millar and three-time world champion, his Saxo Bank team-mate, Swiss Fabian Cancellara.
"Fabian is a great guy, he said some nice comments about me in the press yesterday," Porte added. "Maybe just to put a little more pressure on me."
The pressure is on Porte for a reason. He is a fast time trial rider and is suited to this course with its two climbs repeated twice.
"When I saw those hills, I was pretty excited, I must admit. I think Fabian can still get over them and he knows he can. It is going to play into the favour of a smaller guy like myself. I will use those hills to my advantage."
Porte will use a 44 by 25 gear combination, the same size, 44-tooth, that Millar will use up front. He will have encouragement to push the gears that much harder with his parents alongside the road with two of his three brothers to see him race for the first time as a professional.
"It is the World Championships, I am going to put it al out on the line and have a good dig at it."
Related links
World Championships 2010: Cycling Weekly's coverage index
Thank you for reading 20 articles this month* Join now for unlimited access
Enjoy your first month for just £1 / $1 / €1
*Read 5 free articles per month without a subscription
Join now for unlimited access
Try first month for just £1 / $1 / €1