The pro cycling team with no mechanic and no team car
Norwegian underdogs Frøy-Bianchi take on Team Sky at the Challenge Mallorca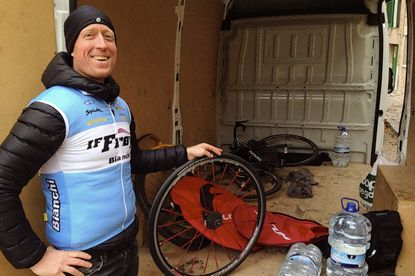 While most riders at the Challenge Mallorca are wolfing down their dinners or putting their feet up in their rooms, the riders on Frøy-Bianchi are busy working under the floodlights outside the race hotel, washing their own bikes.
Parked just down the road from them is the enormous Team Sky bus surrounded by a fleet of Jaguars, a central-heated mechanics truck and several stickered up vans full of equipment.
The Norwegian Continental level team however has no such luxuries. They don't even have a mechanic at the race. Nor for that matter do they have a soigneur, a bus of their own, or a team car.
There are no ergonomic chairs, rice cookers, coffee machines or showers here; Frøy-Bianchi have a beige Fiat Panda rental car and a white van with some big bottles of water in it.
"I think it's OK that the riders have to do some work," team DS Carl Erik Pedersen tells Cycling Weekly. "And when they get better and they get to better teams then they get mechanics and everything."
Pedersen insists it's actually not always like this; the team does have a car ("it was too difficult to bring it down for the race") and plenty of staff back at home in Norway. Nevertheless, even some amateur teams in the UK have a bigger setup than this.
Yet you get the sense that this Scandinavian minnow, made up of Norwegian youngsters and one Frenchman, takes great pleasure in tackling the big boys with its low budget operation, although the sacrifices do go beyond the riders getting their hands dirty in the cold Mallorcan evening.
While Pedersen drives the team car, any riders on a rest day are roped in to the passenger seat, ready to jump out (without scratching the rental car) with spare wheels and mechanical assistance.
We didn't ask who did the massages in the evening.
In a wonderful stroke of luck – or quite possibly the race organisers in Mallorca have a sense of humour - their little Fiat was drawn as the first car in the convoy for the final stage of the Challenge, the Trofeo Palma.
"It's funny," says Pedersen, smiling in anticipation of his day in the spotlight.
Don't for one moment think that this is a team for jokers, though. Spartan surroundings make tough cookies. The team's one French rider – who ended up on the team because his sister was studying in Oslo – managed to make the podium four times on the first day of racing.
Damien Garcia, having been in the day's two man breakaway, was awarded best climber, best sprinter, best combined rider and most aggressive rider for the Trofeo Santanyi-Ses Salines.
The four silver trophies only just went in the Panda's boot.
"It is a modest team, and for me I was just chuffed to be in the break," he said. "For a team like ours, winning four prizes was fantastic.
"Everyone is really motivated, particularly to do as well as we can right up against these huge teams."
Thank you for reading 10 articles this month* Join now for unlimited access
Enjoy your first month for just £1 / $1 / €1
*Read 5 free articles per month without a subscription
Join now for unlimited access
Try first month for just £1 / $1 / €1
Richard Abraham is an award-winning writer, based in New Zealand. He has reported from major sporting events including the Tour de France and Olympic Games, and is also a part-time travel guide who has delivered luxury cycle tours and events across Europe. In 2019 he was awarded Writer of the Year at the PPA Awards.