Raleigh heads to Vuelta Mexico with realistic expectations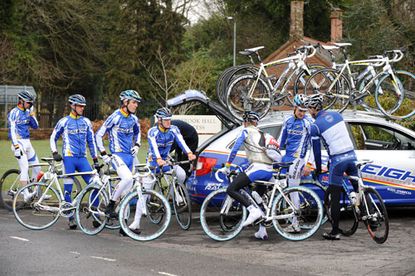 Raleigh will fly to Mexico tomorrow in the second of its international engagements at the Vuelta Mexico Telmex.
Fresh - or not as the case may be - from the Cinturon Tour of Majorca over the weekend, where Dan Shand finished 12th overall, the team will now contest the 2.2-ranked Vuelta Mexico.
"It's a new country for us and a new area," explained team manager, Chris Truett.
"We're going out with moderate expectations and to just try and get round and not kill ourselves at altitude and to keep progressing.
"We're heading out three days before the race starts to acclimatise ourselves to the heat and to the altitude".
It may be that the climate and the altitude are not the only things the team will have to worry about. On the start list are ISD, Amore y Vita, national teams from Mexico and Venezuela and even Rock Racing, now registered as a Mexican amateur team.
Truett has high hopes, however, that team leader Dan Fleeman starts to flourish as the season progresses.
"We're hoping that the investment in Dan starts to pay off a bit more now," Truett explained. 19th overall in Majorca proved that Fleeman is heading in the right direction and the Mexican climbs should suit the Staffordshire man.
"He's had a bit of a slow start to the year I have to admit but he's only been racing once a week in the UK whereas in Europe he was racing day in day out.
"The climbs aren't long enough for him in the UK so his job is to perform well abroad".
The team is optimistic yet realistic as it readies itself for a journey of almost 6,000 miles to South America.
"We're pretty confident we're going in the right direction," Truett added, "and we rode really well in Majorca - Liam Holohan, Dan Shand and Dan Fleeman are all going well - but Mexico will be really tough".
The Vuelta Mexico kicks off on Sunday with a 110km stage around Veracruz.
Thank you for reading 20 articles this month* Join now for unlimited access
Enjoy your first month for just £1 / $1 / €1
*Read 5 free articles per month without a subscription
Join now for unlimited access
Try first month for just £1 / $1 / €1