Report reveals the huge levels of public support for better cycling facilities across UK cities
Vast majority of people in seven cities across the UK in favour of better facilities for cycling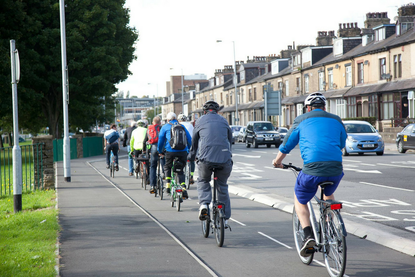 (Image credit: City Connect/Facebook)
The huge level of public support for better cycling facilities has been revealed in a report by walking and cycling charity Sustrans.
The 2017 Bike Life report looked at attitudes towards cycling in seven cities across the UK (Belfast, Birmingham, Bristol, Cardiff, Edinburgh, Greater Manchester, and Newcastle), gathering data from more than 1,000 people in each city, and finding high levels of support for improved cycling infrastructure and increased investment.
Some of the highest levels of support were for protected roadside cycle lanes, with 78 per cent of people wanting to see more being built, which even included 74 per cent of people who do not ride a bike. What's more, this is matched by support for higher budgets for cycling, with 75 per cent of people wanting to see more money spent on cycling facilities.
>>> Nine reasons why commuting by bike is surprisingly brilliant
The report also reveals the potential for growth in cycling, as while only six per cent of respondents said that they commuted by bike, 53 per cent said that they would like to start riding, and 64 per cent said they would find segregated cycle lanes helpful to get them cycling more.
However fears around safety continue, with only 30 per cent believing that cycling safety is good in their city, and just one in five believe that cycling is safe for children.
Sustrans also illustrates the huge potential benefits of getting more people on their bikes, with even the relatively low level of cycling highlighted in the report saving the NHS £8 million per year - enough to pay the salaries of nearly 350 nurses - and contributing £281 million to the economy.
Watch: How to upload a Strava route to your Garmin
Responding to the results of the report, Sustrans CEO Xavier Brice said that he was pleased with the level of support for cycling.
"Bike Life shows that most people living in these seven cities think cycling is a good thing and are far more supportive of bold and ambitious plans for cycling than decision-makers often think," Brice said. "They want dedicated space for people on bicycles even when this means taking space away from cars."
>>> Lack of basic facilities provided for cycling commuters at work laid bare by report
However Brice also said that a lot more needed to be done to encourage people to take to their bikes, and called on policymakers to pay attention to people's calls for better cycling facilities.
"Currently, in total only 19 miles of on-road cycle routes exist that are physically separated from traffic and pedestrians in six of the seven cities (excluding Birmingham where no data is available)," he continued. "It's clear there is work to be done if we are to move forward.
"At a time of falling funding for cycling in the UK – outside of London and Scotland – we call on governments at all levels to work together to meet people's needs by investing in segregated routes that make cycling across our cities attractive, safe and convenient."
Thank you for reading 20 articles this month* Join now for unlimited access
Enjoy your first month for just £1 / $1 / €1
*Read 5 free articles per month without a subscription
Join now for unlimited access
Try first month for just £1 / $1 / €1