REVOLUTION FUTURE STARS LEADERS UNDER PRESSURE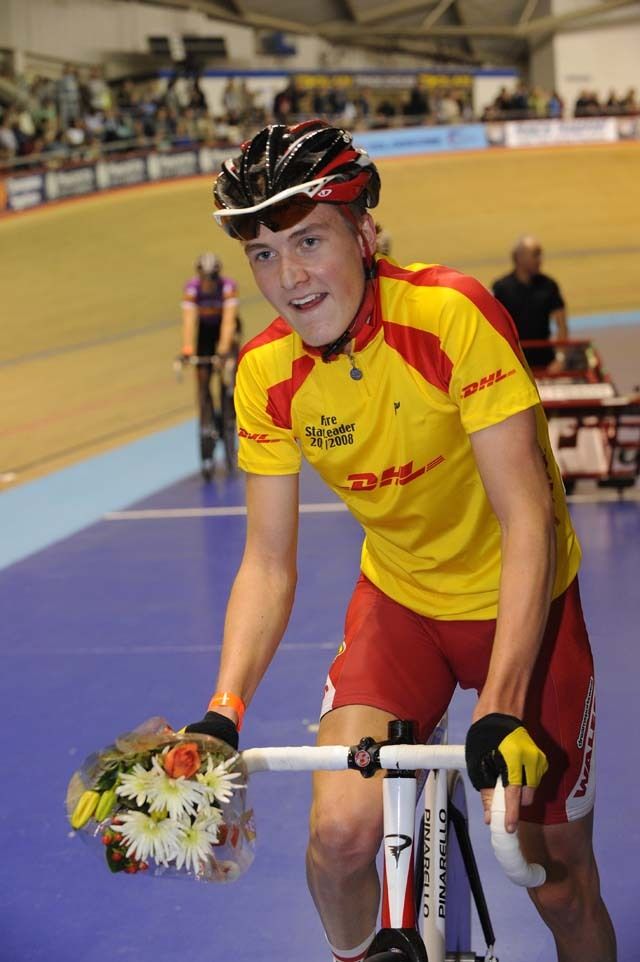 After the epic evening?s racing at Revolution 22, both Sam Harrison and Ruby Miller have managed to maintain their leaders jerseys in the DHL Future Stars competition.
Ruby is now eight points clear of second placed Laura Trott and Lucy Garner?s just a few more points behind her. Ruby?s lead is being edged away and Laura, Lucy and Harriet Owen each won a race at the last event, leaving Ruby to pick up her points with high placings.
Laura?s keen to get the edge over her fellow competitors, saying: ?The racing was good, I really enjoyed it. I was feeling a bit under the weather but the atmosphere and crowd picked me up.?
She continued: ?I can beat Ruby, and I?m getting better with each Revolution. My training is now focussing on Endurance not Sprint so hopefully I can make up the remaining eight points.?
Sam Harrison (pictured above) was on flying form winning all three of the boys races in fine style. Despite his valiant efforts, he?s still only got just a few points between him and second placed rider Simon Yates. Sam?s keen to hold his lead but knows it?s going to be tough, he commented: ?The racing was really competitive and fast as usual. It couldn?t have gone any better for me but I?m still not sure if I am competing in Revolution 23 as the Cyclo cross nationals are the morning after so we will see. However, I think Owain Doull will fill in well for me if I am not there so I?m sure Wales will get a few more wins.?
Simon will have to work hard to gain some points over Sam, he said ?I wouldn't say he is unstoppable but it's going to take something special to beat him!? Nipping at both their heels is Simon?s twin, Adam, currently in 4th place. Like his brother, Adam too is confident that Sam can be stopped, ?With Nico ( Chris Nicholson) we have a strong team and I'm sure we will come up with something.?
Adam, like nearly half of the Future stars field, is a graduate of the DHL Sprint School programme, he?s aware of the impact the sessions have had on his skills and performance, saying, ?I learned loads of stuff at Sprint School to improve my riding and as a result I've had some really good performances this season.?
Revolution 23 is on January 10 and with the recent announcement that Victoria Pendleton will be heading the line up seated tickets have now sold out and only standing tickets remain. The final Revolution of the 2008/9 season will take place on February 21.
Ruby Miller in action during Revolution 22
Harriet Owen - putting Miller's lead under pressure
Photos by Andy Jones
RELATED LINKS
Sprint school stars shine in season finale