'Ride with Bowie' cycle event marks first anniversary of star's death
London bike ride on Tuesday January 10 2017 will mark the first anniversary David Bowie's death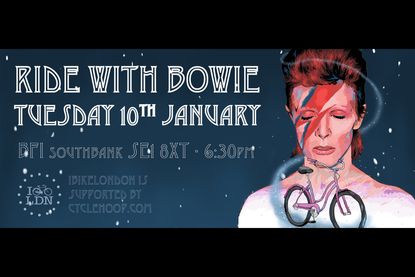 Fans of David Bowie and fans of cycling will come together on Tuesday (January 10 2017) in London for a 'Ride with Bowie'.
The mass-participation cycle ride organised by iBikeLondon marks the one year anniversary of the death of the rock legend.
As a tribute to Bowie, riders are encouraged to dress up as one of Bowie's alter-egos: "Are you Ziggy Stardust, Aladdin Sane, The Thin White Duke… a dapper gent or a stylish freak?" say iBikeLondon.
Music will be provided along the way by the organiser's 'fleet of disco bikes'.
>>> The five most bizarre new cycling products of 2017 (video)
There is no charge to take part in the ride. Turn up suitably attired at the BFI, Southbank, London SE1 8XT on Tuesday January 10 at 6.30pm. More information is available on the iBikeLondon Facebook page or via the iBikeLondon website.
The ride itself will be at a leisurely pace and suitable for all abilities. iBikeLondon recommend that riders wear something warm under their costumes and that they have lights on their bike.
After the ride, there will be a Bowie party at Windrush Square.
Thank you for reading 20 articles this month* Join now for unlimited access
Enjoy your first month for just £1 / $1 / €1
*Read 5 free articles per month without a subscription
Join now for unlimited access
Try first month for just £1 / $1 / €1