Ride With... Harworth & District Cycling Club
We ride the rolling roads of Nottinghamshire with the Harworth & District Cycling Club in the wheel tracks of a legend, Tom Simpson - Words: Trevor Ward | Photos: Andy Jones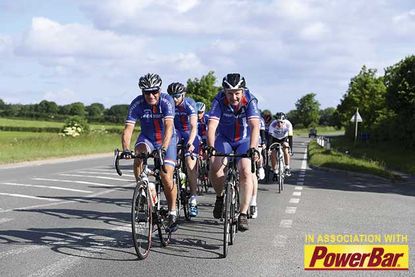 (Image credit: Andy Jones)
Based: Harworth, North Nottinghamshire
Members: 38
Formed: 1936
Meets: Sunday club run (50-80 miles) leaves 8.30 am from Harworth and Bircotes Social Club, Harworth; Tuesday TT series starts 6.30 pm from Blue Bell pub car park, Ranskill (summer only).
Website: www.hdcc.co.uk
Twitter: @HarworthCC
Some riders might feel intimidated under the shadow of a former club member with the talent of Tom Simpson, but that's not the case at Harworth and District CC, where 'Mr Tom' started his racing career.
The riders who have turned out for today's weekly club ride are full of pride at being associated with the three-times Monument winner and first Brit to wear the Tour de France maillot jaune.
"You can't escape him," says club captain Andy Rodgers, pointing out the memorial stone — a replica of the one found on Mont Ventoux — that sits on the grass verge outside Harworth and Bircotes Social Club where the club meets.
Inside is a display cabinet containing assorted Simpson memorabilia, including jerseys and bikes. "Whenever other riders spot our jerseys, the first thing they want to talk about is Tom," he continues.
Simpson's name will crop up a lot during today's ride, which starts with a fast stretch along the North Road. We are retracing Simpson's daily commute from his home in Harworth to Retford where he worked as a trainee draughtsman at the now defunct Jenkins engineering factory.
Though none of the club's current members rode with Simpson, they were all aware of his exploits as youngsters. John Owens remembers the day of his funeral.
>>> Tom Simpson 1937–1967: A life in pictures
"I was 10, but I remember all the shops and factories closed and there were hundreds of people walking up to the churchyard," he says. "Me and my mates followed them on our bikes. We all knew who Tom was."
Working class hero
Keith Rowland joined the club as a 13-year-old in 1975. "Tom Simpson was my hero then, and he's my hero now," he says. His and the Simpson family were close, with his grandfather and Simpson's dad having worked together at Harworth colliery.
"When Tommy came back from the [1956] Olympics, he gave a commemorative ties to both his dad and my granddad, and the pair of them would go out wearing them pretending they were athletes themselves," he says.
He no longer recalls where the tie is but still has a couple of Simpson's old medals — "from his days with [Rotherham] Scala Wheelers and a Harworth CC 10" — up in his loft. "I'll fetch them down if anyone asks," he says. "In fact, I'm taking them on this year's club trip to Ventoux, so if anyone we meet is interested in Tommy I can show them."
Bob Clapperton was 20 when Simpson died. "I was living down south at the time and he was one of my heroes," he says. After spending his adult life travelling around the UK as an engineer, Clapperton settled in Nottinghamshire.
"For me to join his old club was an honour," he continues. "Whenever people see our jerseys, they know it's Tommy's club and that makes us so proud. On our regular club trips to Ventoux we create quite a stir."
There is no Ventoux to be conquered on today's ride, which takes in quiet, rolling country lanes between Lincoln and Sheffield. At one point, we lose contact with Rodgers. While waiting for him, former club captain Peter Lees jokes: "He's taking a risk. I went to the loo once and came back to find they'd sacked me."
>>> Find a cycling club near you
By the time Rodgers has rejoined us, we are on the final stretch back to Harworth, and I raise the delicate question of Simpson's doping.
"That's how it was back then, just like you weren't allowed to take drinks from team cars," says Rodgers.
Back in Harworth, Lees proudly shows me the display cabinet dedicated to 'Mr. Tom', and the visitors' book recently signed by a certain Bradley Wiggins.
This is a club unashamedly basking in the glow of its most famous son.
History
The club was formed in 1936 and has enjoyed fluctuating fortunes ever since. While membership peaked at over 100 in the 1960s, the club was forced to advertise in the local newspaper for new blood when it seemed on the brink of extinction in 2006 with just five regulars.
"I remember meetings packed to the rafters and others that took place in someone's living room," says Keith Rowland, one of the club's longest-serving members.
He also recalls club members riding out to local grass, cinder and concrete tracks. (Tom Simpson got his first taste of the track racing on a grass surface at Blythe).
The club still holds regular rides to Cleethorpes on the coast, one of the first club rides Simpson ever completed. In his autobiography, Cycling Is My Life, he recalls: "This was a run of just over 100 miles with some hills that would see me off. On the long drags I would be left behind and come puffing into Cleethorpes just as they would be starting back after a rest and a cup of tea."
These days, the club would not be so demanding of new members, says secretary Steve Parker.
"We welcome new riders with open arms and would invite them to have a couple of rides with us and decide for themselves if it's right for them," he says.
Members turn out in numbers for the annual Tommy Simpson Memorial Ride held on local roads, and the club organises regular trips to Ventoux to pay its respects at his memorial. This year, it has organised a memorial ride up the mountain, due to take place today, the 50th anniversary of his death (July 13).
Achievements
Tom Simpson's palmarès continue to cast a long shadow but other more recent domestic successes include:
2012: Steve Parker rode from St. Malo to Bilbao, approximately 800 miles.
2016: Jack Rowland won Group B of the North Midland Road Race League in his first full season.
2016: Robin McKinnon finished second in the League of Veteran Racers' Percy Stallard Series.
2016: Bob Clapperton and Andy Pedley rode from Caen to Nice, approximately 900 miles, including an ascent of Ventoux.
2016: Five members completed the "Fast'n'Flat 100" sportive in under five hours.
2017: Matt Rodgers, Sandy Smith, Robin McKinnon and Dave Clark finished third in the SheffRec CC TTT contest.
Harworth & District club run
Ride highlights
1 North Road
The first 10 miles are the perfect leg-warmer, a long, fast straight that takes you down the road Simpson used for his commute to his job as an apprentice draughtsman.
2 Maplebeck Climb
More of a pimple than a hill, this rise nonetheless gives you a chance to stretch your legs. The views from the top, while hardly Alpine, stretch as far as Lincoln.
3 Tuxford Windmill
The "Ventoux" of the route, just over half a mile of ascending with a benign average gradient of three per cent. On a clear day, you can see Sheffield to your left.
Favourite cafe
A rural setting with plenty of outdoor tables and benches — plus some of the best home-made ice cream for miles (try the damson and cream flavour) — makes the Newfield Ice Cream Parlour and Cafe the ideal stop on sunny days. Caunton Road, Hockerton, Southwell, NG25 0PN
Thank you for reading 20 articles this month* Join now for unlimited access
Enjoy your first month for just £1 / $1 / €1
*Read 5 free articles per month without a subscription
Join now for unlimited access
Try first month for just £1 / $1 / €1