Ride With... Orkney Cycling Club
Trevor Ward ventures way up north for an outing with the Orkney Cycling Club - Photos by James Robertson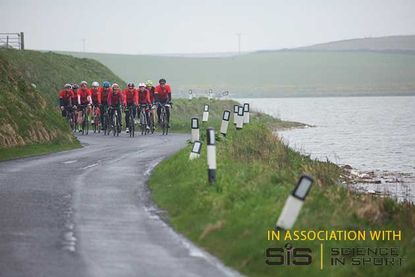 Members: 55
Formed: 2017
From: Orkney, Northern Isles
Facebook: Facebook.com/Orkney Cycling Club | Twitter: @OrkneyCC
You're never short of interesting conversation during a ride with Britain's second most northerly cycling club.
Members include tour guides, brewers, scientists, a marine pilot and a rider who once competed against Tim Krabbé, author of the cult novel about bike racing, The Rider.
Stuart Mayes admits his encounter with the best-selling Dutch author wasn't in a bike race, but at a chessboard. "He's a Dutch grandmaster, and I was playing against him years before I knew he was a cyclist," recalls Mayes.
Orkney boasts a diverse population of residents from all corners of the UK and beyond, and this is reflected in the club's membership.
Jenny Middlehurst moved here from Barnsley, where she was a regular on the race circuit. "I've never missed the racing side, but I did miss the social side of group rides, so the club came along at the perfect time for me," she says.
Marcel Holdinga is from near Amsterdam but fell in love with Orkney after a holiday here. Surprisingly for a native of the Netherlands, he's relatively new to road cycling, and is today celebrating his longest ride.
"I stopped cycling when I moved to the UK in 1998, because suddenly there were no bike paths and lots of hills," he recalls. "I decided to return to the bike earlier this year when I heard about the club — it's just so relaxed and friendly, with no pressure to keep up. My target now is to get fitter."
Islander Helga Flett's reasons for joining the club followed the recent arrival of her first child.
"I've always liked walking, but discovered I could go further and faster on a bike," she says. "But since having a baby, I've felt a bit more vulnerable when I'm out riding on my own, so the club is perfect for me being able to go out with others."
At the other end of the spectrum, the club has notched up some respectable results in competition. Olga Hamilton and Tom Lynch both competed at last year's Nat West Island Games with Lynch — who works at Orkney's Swannay brewery — finishing 19th in the 10-mile TT. Now the club is gearing up for next year's Games in Gibraltar, and the 2023 games that are due to be held on Orkney.
"As the island's cycling club, we hope to be involved with the planning and organisation of the road race and TT," says club secretary and marine pilot Pete Bentley.
Medical scientist David Farrer raced at junior level for Kent Valley Road Club in Cumbria, but is now forced to travel to the Scottish mainland for his road racing fix.
"However, when I'm out on a club ride like this, they let me race up the hills, as long as I wait for them at the top," he says. "That means I get the best of both worlds — the competition and the banter."
As we ride up and down a succession of rolling hills — Orkney is far from flat — tour guide David 'Red' Hamilton is filling me in on the island's history.
He tells me how many icons — from the island's Neolithic stone circles to the mythical Maeshowe Dragon — have been incorporated into the club's jersey design (the work of member Matthew Lynch).
But Hamilton, a lifelong Orcadian, hopes the club can address a more modern characteristic of the island. "On Orkney, if you're not very good at sport, it's easy to be excluded," he says. "I'm hoping we as a club can address that and make cycling an inclusive sport."
Club history
The club possesses a faded black-and-white photograph from 1897 showing a group of around 30 cyclists attired smartly in suits and hats. It is captioned, 'Kirkwall Cycling Club'.
What makes it especially remarkable is the presence of several female and youth riders. This served as inspiration to Pete Bentley when he first proposed the idea of resurrecting a cycling club for the islands.
"It can be quite daunting if you've just got a new bike for Christmas, or want to dust off your old bike and get back into cycling and you're a bit worried you're going to be left behind," says Bentley.
"We wanted to tailor the club so that everyone feels involved. Our aim is to encourage as many people as possible to take up the sport, and to help others improve.
"I used to see road cyclists out riding on their own and wondered, 'Wouldn't you rather be out in a group?' So I put something out on Facebook and we had half-a-dozen folk respond almost immediately. By January of this year we were up and running and affiliated to British Cycling."
The first significant decision the club had to make was the day of its weekly club ride. "We opted for Saturday," says Bentley. "There is a hard-core triathlon club that goes out on Sundays and we didn't want to get in the way of them."
>>> Ride With… Inverness Cycling Club
Within six months of its formation, the club was awarded £6,000 from the National Lottery to develop coaching.
Main promotion
Being one of the northernmost cycling clubs in the UK — accessible only by an expensive ferry — the club took it upon itself to organise an event it hoped would be sufficiently innovative to attract riders from the Scottish mainland. This summer saw its inaugural Three Braes ride, described as a "Midsummer
Three Peak Lung Buster". The peaks involved are Wideford Hill, Heddle Hill and Lyde Road. The climbs were timed individually and then combined.
Member Q&A: The Reverend Fraser McNaughton, newbie
Cycling Weekly: Why did you join the club?
Fraser McNaughton: That's easy — when you're out riding with other people you don't think about things like a sore bum! And your bum doesn't get any sorer whether you're out for one hour or three. Riding with the club allows a lovely mixture of being able to achieve individual goals or going out in a group and making it much easier for yourself.
CW: How did you get into cycling?
FM: I played rugby when I was younger. It wasn't professional,
but I played with [former Scotland captain] Gavin Hastings. But I knackered my knees and had to retire. I still refereed and coached, but I needed a low-impact sport, so took up swimming and cycling. I moved up here 16 years ago to become the minister at St. Magnus Cathedral, and until recently had never cycled more than 30 miles.
CW: How is the club helping you develop?
FM: I've just done my first 50-mile ride with the club and I've been doing their weekly TTs to stave off old age! My times are improving. Riding with the club means I've found out more about my abilities. I'd quite like to organise a criterium around the cathedral — watch this space!
Ride Highlights: Orkney CC
1 Scorradale Descent
A fast, lengthy descent offering great views across the bay to Stromness and over Loch of Stenness. After the surprise of discovering Orkney does indeed have some stiff climbs — the ascent averages seven per cent — this is a welcome reward.
2 B9056 to Birsay
This feels like Belgium Classics territory — but without the cobblestones — with an endlessly rolling road and relentless sidewind from the Atlantic. Inevitably, the rugged coastal views — and promise of an imminent cafe stop — make it all worthwhile.
3 Redland-Grandon South
A fitting finale to a glorious route, with a narrow lane taking you up one final, testing climb before a thrilling, technical descent skirts the sea before delivering you back to Finstown.
>>> Find a cycling club near you
Favourite cafe: Birsay Bay Tearoom
On a damp Saturday morning, the historic sights of Birsay — Earl's Palace and the church of St. Magnus — pale beside the warm, welcoming refuge offered to the weary cyclist by Georgie Clark's tearooms. She's been offering home-made cakes, a range of local produce and a selection of coffees and teas for the last five years, and has a soft spot for cyclists — her husband, Alex, runs the island's only bike shop, Orkney Cycles in Kirkwall, and, until recently, organised a weekly TT event (since taken over by the club). Birsay Bay Tearoom, Birsay, Orkney, KW17 2LX.
Thank you for reading 20 articles this month* Join now for unlimited access
Enjoy your first month for just £1 / $1 / €1
*Read 5 free articles per month without a subscription
Join now for unlimited access
Try first month for just £1 / $1 / €1