Riders in near-miss with train during Under-23 Tour of Flanders (video)
Group of riders ignores closed level crossing just seconds before a train passes through during Ronde van Vlaanderen Beloften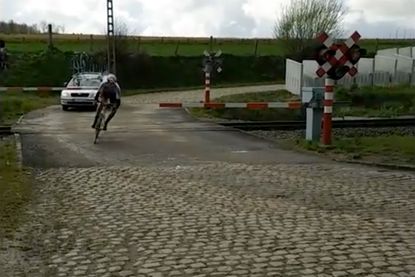 Video footage has emerged of a group of riders going through a closed barrier at a railway crossing during the Ronde van Vlaanderen Beloften in Belgium on Saturday.
A small group of riders can be seen rounding a bend and going across the railway tracks in footage that appears to have been shot by a spectator. As a warning bell at the crossing clearly rings and the barriers come down, several riders duck underneath them and others ride through the gap.
British rider Christopher Latham is the last to come through the gap, just seconds before a fast-moving train passes by sounding its horn.
The race is the under-23 equivalent of the Tour of Flanders, and includes 14 of the sharp climbs used in the elite event, including the Koppenberg and Taainberg.
Professional cyclists ignoring the safety risks of traversing a closed railway crossing reached the headlines again on Sunday during Paris-Roubaix, after a group of riders rode across a closed crossing.
Cycle sport's governing body, the Union Cycliste Internationale (UCI) issued a statement on Monday saying that it would be investigating the Paris-Roubaix incident, and the French train company SNCF has filed a police complaint as a result.
Thank you for reading 5 articles this month* Join now for unlimited access
Enjoy your first month for just £1 / $1 / €1
*Read 5 free articles per month without a subscription
Join now for unlimited access
Try first month for just £1 / $1 / €1