Train company files police complaint after Paris-Roubaix riders jump crossing
When barriers descended on a level crossing with 87km to go in Paris-Roubaix, several riders ignored the warnings and rode across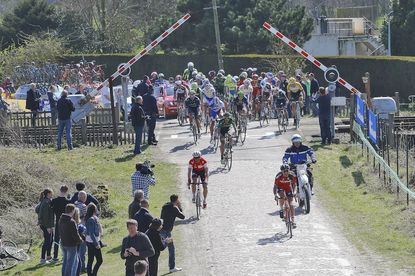 (Image credit: Graham Watson)
French railway company SNCF has filed a formal complaint to the police after a number of riders ignored level crossing barriers during Paris-Roubaix on Sunday.
The peloton was split in half as the barriers descended 87 kilometres from the end of the Hell of the North, but several chanced their luck by scooting across before the train arrived.
French national champion Arnaud Démare was one such rider who made the dash before a high-speed TGV passed by seconds later, only to get tangled in the barriers on the opposite side.
https://www.youtube.com/watch?v=xz6JXmPlBpc
According to race rules, riders who cross a railway line when the barriers are closed face disqualification, but commissaire's chief Guy Dobbelaere defended the decision to allow them to continue unpunished.
"It wasn't possible for the leading riders to stop sufficiently safely," he said.
"The peloton was 10 metres away when the barrier started to close. By neutralising the race for a few moments to not penalise those who stopped, we respected the spirit of the rule."
But SNCF released a statement on Monday revealing they have taken the matter up with the police.
"Several riders deliberately crossed a level crossing, which is against all safety regulations," the statement said.
"Millions of TV viewers were able to watch this unauthorized crossing which was extremely serious and irresponsible, that could have ended in tragedy.
"SNCF has decided to lodge a legal complaint and will leave it up to the investigation to determine who was responsible and we regret that such foolhardiness took place."
>>> John Degenkolb's perfect Paris-Roubaix ride
Source: thelocal.fr
Thank you for reading 20 articles this month* Join now for unlimited access
Enjoy your first month for just £1 / $1 / €1
*Read 5 free articles per month without a subscription
Join now for unlimited access
Try first month for just £1 / $1 / €1