Rivals will learn little from Froome's numbers, says Astana coach Slongo
Paolo Slongo doesn't expect to garner much information from Chris Froome's testing data when it is released on Friday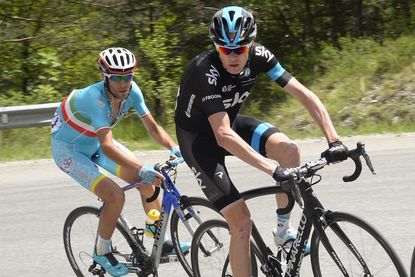 (Image credit: Watson)
Chris Froome's power data release later this week will provide little advantage to his rivals unless he provides comprehensive details, says Vincenzo Nibali's trainer Paolo Slongo.
Team Sky's Froome, winner of this year's Tour de France, has decided to release his physiological values and underwent testing at an independent laboratory to do so. Esquire magazine will publish them on Friday and further details will be revealed next week in print. It is unclear exactly how much it will reveal.
Slongo, who helped Nibali win the 2014 Tour, hopes to see a full range of numbers as he did with this summer's leaked YouTube video with numbers from the 2013 Tour.
"We'll be able to see his current values at the moment but we won't learn anything based on [those] numbers," Team Astana's Slongo told Cycling Weekly.
"If he publishes numbers from the Dauphiné, then I know for how many minutes he can maintain a certain output for at the Tour. It's important for a trainer, it's not that we will be taking away secrets, but we can see that his threshold is maybe 400 watts. If I know that over 30 minutes he can maintain that advantage, or that he can go up to 430 watts for 10 minutes or so, then I can work off of that."
Watch highlights of the 2015 Tour de France
The GSK Human Performance Lab in London tested Froome in the month after his Tour victory.
The Astana trainer from Veneto said that based on Froome's watts and climbing times a rival may see if he can be competitive against Froome or not.
He added that the "numbers are what they are" and little can be done to improve them for a cyclist who is already around 30 years old. A younger cyclist could work with his training and perhaps gain 10 to 30 watts, but "it's not easy to make that up."
"Is it a risk for Froome to release these power numbers? His rivals will see them, for sure, but going from there to the races, what will it mean?" Slongo added.
"It's like if your car goes 50kph and mine 48... I can see how fast yours goes but I can't do anything legally to change my speed. It gives me an idea where our rival is at, and after that we have tactics and luck that comes into play. The numbers allow us to know if you are competitive or not with him."
Slongo said that if Froome limits data to VO2 max and some power numbers, then it will not tell much of a story about the two-time Tour champion. He will want to see threshold values and "in exact detail" when Esquire publishes its articles if he is to gain any insight to pass on to his athletes..
Thank you for reading 20 articles this month* Join now for unlimited access
Enjoy your first month for just £1 / $1 / €1
*Read 5 free articles per month without a subscription
Join now for unlimited access
Try first month for just £1 / $1 / €1