ROMERO TAKES EMOTIONAL GOLD IN WOMEN'S PURSUIT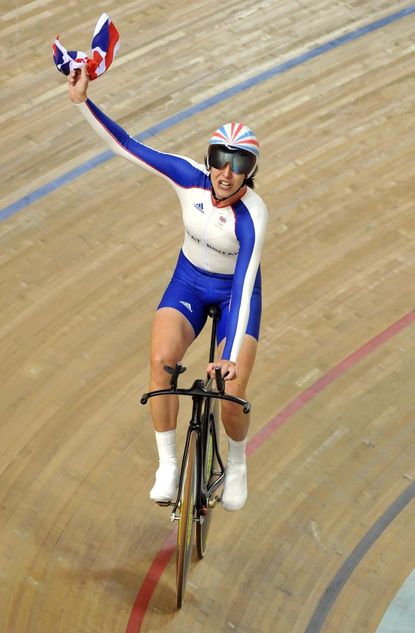 Rebecca Romero sealed the cycling team their fifth gold of the Olympics and Team GB their 11th as Great Britain raced up the medal table to third. It was another great day for British sport, and again it was the athletes in the velodrome that lead the way.
The Brits were assured of gold and silver as Romero was up against her compatriot Wendy Houvenaghel in the final. There had been nothing between the two in both the qualifying and first round as they posted times within two tenths of a second of each other on each occasion.
It was the same scenario with their living arrangements here in the athlete's village as the pair were in the same apartment. But in today's final their was daylight between the two as Romero opened up a two second lead as she headed to gold.
"Before I left the village I told Victoria [Pendleton] that I felt like I have been wrongly accused for murder and I'm on my way to court for judgement," Romero said afterwards. "It's decision day and I'm about to find out if I'm freed for the rest of my life. Freed from the demons."
The demons came out in Romero's screams when she realised she'd won, the muted applause making her screams all the more audible. With the focus at the Olympics being on nation versus nation, the crowd was noticeably quiet throughout the ride. Not knowing who to cheer also affected the British coaching staff in the centre of the track, most pertinently women's endurance coach Dan Hunt. "I had mixed feelings," he said. "Normally I?m running the clocks, I?m running the schedule and it was hard to separate myself and just be a spectator. I just made sure that as soon as they were at the line, that was it, my job was done, I was going to sit back and let them go."
"They?ve had a fantastic journey the pair of them, neither of them were full time bike riders anything more than two years ago. To come from nothing to Olympic champion and silver medallist in two years is just fantastic."
British Cycling's Olympic Podium Programme has virtually sealed world domination when it comes to the pursuiting event. "We?ve got a way of doing things, but there?s no secrets. It?s hard work, and it?s looking at the details. There are clever people behind the scenes, we?re not just out there guessing, we?re making educated decions on what we?re doing."
"We?re looking under every stone. We look at power, we look at humidity, we look at temperature. We look at the rolling track conditions to help us with our gear decisions. All these things, we?re a step ahead of the rest."
Romero goes in the Points race tomorrow, in what will be her second ever go at the event. Although you can't rule anything out with the British cyclists this weekend, nothing is expected of her. "Even if she doesn't medal, she's going to make a race of it." Hunt said. "Whoever wins tomorrow will know that they've been in a race."
Another gold and silver from one event for the Brits. Wendy Houvenaghel joins Rebecca Romero on the podium in the Laoshan velodrome.
Swipe to scroll horizontally
OLYMPIC GAMES 2008: TRACK
Day two in pictures
Sunday's action as it happened
Preview: Sunday at the Laoshan
Day two at the track: Summary of the action
Hoy and Edgar clean up in the Keirin
Wiggins gets pursuit gold, Burke wins bronze
Newton storms to bronze in points race
Saturday's action as it happened: Two gold, a silver and two bronze for Britain
Blog: Life in Laoshan
Day one in pictures
Brits blast to team sprint gold
Day one at the track: Summary of the action
Friday's action as it happened: Gold for team sprint trio; Wiggins, Houvenaghel and Romero well in control
Burke blasts to new individual pursuit PB
British track stars raring to go
What makes the Laoshan such a challenge
Picture special: CW takes you inside the Laoshan velodrome
Saturday's preview
Friday's preview
Can these legs make an Olympic champion?
Cavendish unlikely to ride individual pursuit
How many medals will Britain's riders win?
Swipe to scroll horizontally
Positive test for cyclist at Olympic Games
Bettini chasing second Olympic gold
Romero poses nude for ad
British quartet eyeing new world record
As Olympics approach two new drugs emerge
Beijing Blog
Beijing Blog 2
Beijing Blog 3
Swipe to scroll horizontally
Picture special: Women's time trial
Cancellara wins men's time trial gold
Men's time trial reaction: Steve Cummings on his ride
Women's time trial reaction: I feel fantastic, says Pooley
Pooley wins silver in women's time trial
Cooke's secret was the skinsuit
What the papers say... about Nicole Cooke
Analysis: women's road race
Gold for Nicole Cooke in Women?s road race
Reaction: It?s a dream to win Gold, says Cooke
Women's Olympic road race picture special
Sanchez gives Spain gold in thrilling men?s road race
Who is Samuel Sanchez?
Tactical analysis: Reading the men?s Olympic road race
British riders suffer in hot and humid Olympic road race
Rebellin misses out on golden birthday
Brailsford confident ahead of women?s road race
Swipe to scroll horizontally
OLYMPIC GAMES 2008: GUIDE
Olympics cycling results>>
Cycling event schedule>>
Great Britain rider profiles>>
Cycling event guide>>
Photo gallery>>
Every British cycling medal ever won at the Olympic Games
From paupers to kings: The lottery funded revolution>>
Track results at the Worlds and Olympics 2004-2008
Thank you for reading 20 articles this month* Join now for unlimited access
Enjoy your first month for just £1 / $1 / €1
*Read 5 free articles per month without a subscription
Join now for unlimited access
Try first month for just £1 / $1 / €1