Rowans Hospice staff set to embark on 500-mile California cycling challenge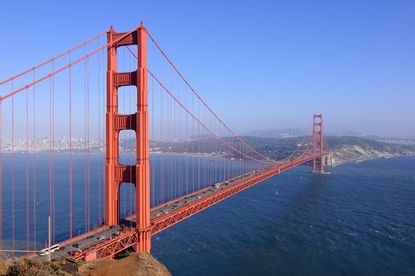 Four Rowans Hospice staff are about to set off on an eight-day cycling challenge in California to raise funds for the charity they work for.
Adrianne Pike, Katie Green, Anne Yendell and Helen Wilks will ride the 511 miles between San Francisco and Los Angeles in October - an average of more than 60 miles a day.
As part of an 11-strong team, the four Rowans staff will start by crossing San Francisco's Golden Gate Bridge before heading towards Santa Monica, Los Angeles, via Monterey, Big Sur and Ventura.
>>> Cyclist conquers 24-hour London to Paris charity ride on Boris Bike
With 88 miles to cover on the first day between San Francisco and Santa Cruz it won't be an easy acclimatisation for the team, especially as Adrianne admits on her fundraising page that she's not ridden a bike since the days of tassles adorning handlebars.
With £3,000 each to raise before the start of the trip the team are doubling their fundraising efforts, with a jumble sale being held at the Mountbatten Leisure Centre in Portsmouth this Saturday (August 22).
All proceeds from the ride go to the Rowans Hospice, a charity dedicated to improving the lives of people with cancer and other life-limiting illnesses in Portsmouth and South East Hampshire.
Visit Adrianne's fundraising page to donate towards the challenge, which runs between October 8-15.
Thank you for reading 20 articles this month* Join now for unlimited access
Enjoy your first month for just £1 / $1 / €1
*Read 5 free articles per month without a subscription
Join now for unlimited access
Try first month for just £1 / $1 / €1