Rui Costa still aiming to defend World Championship title despite pneumonia
World Champion Rui Costa was forced to abandon the Tour de France with pneumonia, but hopes to recover in time for world title defence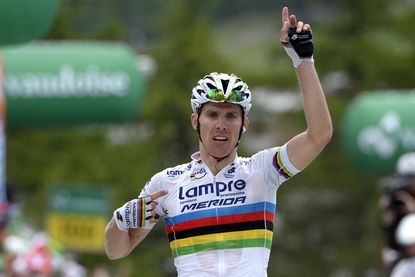 (Image credit: Watson)
Rui Costa (Lampre-Merida) is planning his title defence at the World Championship road race after the onset of pneumonia forced him out of the Tour de France on Monday.
"We wanted to pull him out, let him recover and have him do the races up to the world championships," Lampre team manager, Brent Copeland told Cycling Weekly.
"We are doing tests to see when he can start up again, but he was meant to take a break after the Tour de France and the Eneco Tour, so for us, it's fine. He should get over the infection and have a good end of season"
Costa became the first Portuguese cyclist to win the World Championship road race in 2013 in Florence. The win helped cement his transfer from Movistar to team Lampre.
He was due to lead the team to a top spot in the classification, but a chest infection and what turned out to be the onset of pneumonia stopped him.
"He's been suffering with bronchitis, the doctor was worried," added Copeland. "He felt his chest hurting a lot on Sunday, that his chest infection wasn't healing.
"On Monday, the doctor took him for x-rays and saw that pneumonia was starting. It hadn't set in, but if he had carried on it probably would've turned into an infection."
Costa, who took two stage victories in 2013, went to his base in Andorra winless. Copeland explained that he already is looking towards the worlds in Ponferrada, Spain, on September 28
Costa will race the GP Plouay on August 31, the Grand Prix Cycliste de Québec and Grand Prix Cycliste de Montréal in Canada, and a handful of other one-day races before the worlds. Copeland said that it worked last year, so that they will repeat the programme.
"He was disappointed to leave the Tour. He was battling for a week, you could see he wasn't himself," Copeland continued.
"We hope so he can return fast enough. The doctor thinks that he can, but if he had carried on in the Tour it would have been a risk for him to pick up an infection. He should get over it quickly and start up again towards the Worlds."
World Champion Rui Costa forced to retire from 2014 Tour de France after X-rays confirm lung infection
World Champion Rui Costa likely to change his Tour de France aim from yellow jersey to stage wins
Thank you for reading 20 articles this month* Join now for unlimited access
Enjoy your first month for just £1 / $1 / €1
*Read 5 free articles per month without a subscription
Join now for unlimited access
Try first month for just £1 / $1 / €1