Scott unveils its all-new CR1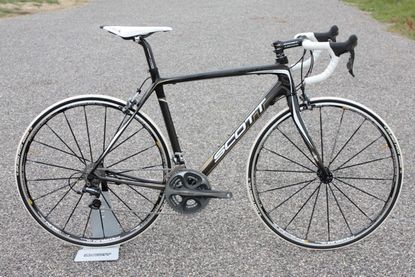 Scott today unveiled details of its new CR1; fundamental geometry remains unchanged, although it is now aimed at the burgeoning sportive market.
The former top-of-the-range machine had become a little lost in the range with the introduction of the Addict and its subsequent expansion but CR1 fans can breathe a sigh of relief as it has its own position again in the range.
Scott has redesigned the CR1 to become a sportive-specific machine suitable for all day rides, filling an obvious hole in the Scott range of road machines.
To make the bike suitable for challenging, long rides the designers have come up with the Scott Damping System (SDS), which allows the seat and chainstays plus the forks to bend slightly in an effort to reduce the riders perception of the initial shock when riding over a rough surface, they have gone further by also aiming to dampen the vibration faster too.
The point is to reduce rider fatigue. Yet Scott does not want the additional comfort of the CR1 to compromise handling so the engineers have increased the frame's resistance to twisting at the same time hoping to offer the best of both worlds.
Five models with groupsets starting with Shimano Tiagra, 105, new 6700 Ultegra and Dura Ace as well as SRAM Rival will be available.
All the frames are constructed from Scott's HMF carbon tubing and come in either 86mm pressfit or standard bottom bracket configurations depending on the specified chainset, 86mm pressfit for cranks with two rings and standard bb for triple set ups plus SRAM Rival. The 86mm pressfit frame weight is 920g with the standard version just 10g more at 930g this lower weight represents a drop of 150g over the old CR1.
Although the fundamental geometry remains unaltered, Scott has lengthened the headtube to allow a more upright riding position and therefore give more comfort for long, all day rides.
Expect the new CR1 to be in the shops by November. Prices have yet to be set.
Thank you for reading 20 articles this month* Join now for unlimited access
Enjoy your first month for just £1 / $1 / €1
*Read 5 free articles per month without a subscription
Join now for unlimited access
Try first month for just £1 / $1 / €1