Segregated cycle route plans for dangerous London junction released
Cycle Superhighway 5 route will be in place by October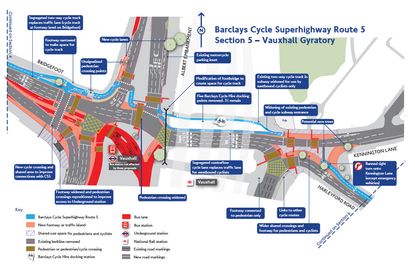 (Image credit: Transport for London)
Radical designs for London's first segregated cycle superhighway through Vauxhall, one of the city's worst junctions for those on bikes, were released for consultation today.
This section of the new CS5 route, which will be in place by October, runs two miles West-East from Belgravia to Kennington Oval crossing the lethal Vauxhall Gyratory, where a man died cycling last month after a collision with a lorry, and where a third of rush hour traffic is cyclists.
Campaigners are calling the designs a step change in the way the capital builds cycling provision and the London Cycling Campaign commended cycling commissioner Andrew Gilligan for his role in the designs.
The Mayor, Boris Johnson, said: "In my Cycling Vision I promised that the worst and most dangerous junctions would be made safe for cyclists. Vauxhall is the first. In the same week London hosted the Tour de France, I am perhaps even more excited by this scheme, which will help ordinary cyclists every day for years to come."
The route features a three to five metre wide, two way cycle lane on the north side of the road, separated from traffic by a kerb, and from pedestrians by a ridge. At junctions cyclists will have green signals while other traffic is held on red, with some left turns from motor vehicles across the route banned to reduce conflict. Pavements have been widened and the passage under a rail bridge will also be widened to increase capacity for cyclists and pedestrians.
The London Cycling Campaign's Charlie Lloyd said: "We think a lot of it is really amazing compared to what we have seen before, it is a significant step change."
"In response to London Cycling Campaign's Go Dutch campaign, the Mayor promised to deliver all new superhighways to best continental standards.
"Gilligan needs to be commended for beginning to change the way that Transport for London delivers on these things. It is the best thing we have seen in London by far."
The route, which will later go to New Cross, will link to "Quietways" at both ends, and allows cyclists to avoid another lethal gyratory at Victoria.
The unveiling of the designs sparked lively discussion on social media, with campaigners welcoming the bold designs but, unsurprisingly, with criticisms on certain aspects of it, including shared space sections, and the navigation of large junctions for cyclists turning off from the main route.
Lloyd said shared space sections would work if the crossing signals were long enough, adding the entry and exit to the route may prove difficult where cyclists have to cross busy roads to reach the track on the North side of the road.
Cyclists in the City blogger Danny Williams said the plans were light years ahead of what London sees at the moment. He said: "The new proposal provides a route I think I would use on my road bike, just as happily as on a Boris bike and that I'd be happy to pedal with my mum. That is something of a first for inner London."
Leon Daniels, Managing Director of Surface Transport for TfL, said: "We have worked hard to come up with a scheme to improve facilities for both pedestrians and cyclists throughout this busy area and we would welcome any comments from local residents or road users on these ambitious, but deliverable plans."
Designs will be open for consultation until 14th September, available here: https://consultations.tfl.gov.uk/cycling/cs5-inner?cid=fs153.
In a good day for those wanting to cycle in Oval, Transport for London also released plans and a consultation on improvements to four junctions around Oval station today.
Thank you for reading 20 articles this month* Join now for unlimited access
Enjoy your first month for just £1 / $1 / €1
*Read 5 free articles per month without a subscription
Join now for unlimited access
Try first month for just £1 / $1 / €1