Shane Sutton: Brad's the man for the Hour
British Cycling Technical Director also sure that Alex Dowsett would have performed well in his attempt if it wasn't for injury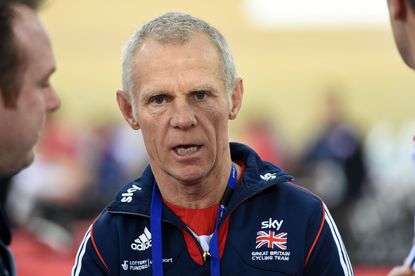 (Image credit: Andy Jones)
Bradley Wiggins can set an Hour Record benchmark that can stand and stay for a long time, says British Cycling Technical Director, Shane Sutton.
Sutton was speaking at the National Cycling Centre in Manchester when he told the media that if Wiggins can follow through like he has done on most of his other goals in his career, he will be the man to beat when it comes to the prestigious endurance record.
He remains however, wary of Commonwealth time trial silver medalist, Rohan Dennis and 4km individual pursuit record holder, Jack Bobridge, who are both set to make their attempts within the next few weeks.
"I spoke to Brad the other day on this [the Hour Record] and I think he will set a marker, but it's not going to be easy" Sutton said. "You've got a guy who's ridden a 4-11 [4km individual pursuit] going for it this week.
"Brad and I talked about Rohan [riding in Switzerland} and Jack going for it in Australia and they'll both set good distances. So Brad's going to have to work hard but if anyone's going to set something that's going to stand and stay up there for quite a while, I would say it's going to be Brad for sure."
>>> Jack Bobridge: 'I am going to set the Hour Record benchmark'
The Australian coach, who has worked with Wiggins through the majority of his career, believes it's the resolute approach the British rider takes towards each event, as he did with the 2012 Tour de France and last year's World Championship Time Trial, that can move him above the rest of the contenders.
"[It's] that single minded focus that he has," Sutton said. "Look at his ride last year at the worlds; most people thought 'oh, Tony Martin's the man', but Brad just went away and with the belief he took from the Olympics and the Tour and all the rest of it, he took it into that context and he was just on another level to everybody.
"And I think if Brad takes that same mindset into the Hour and with the support team around him, with Sky and the whole package, I think he can set something way up there."
Sutton, who left his coaching role at Team Sky in 2013 to take up the newly created Technical Director position at BC full time, also expressed his disappointment about former Sky rider Alex Dowsett's injury, that caused the Briton's Hour Record attempt at the end of February to be postponed.
"For Alex to have that set back, he's probably going to have to abort it for a while now, because he'll be going into his road phase and everything else, and it does take a lot of specific work to get ready for that [the Hour Record], as you've seen with the training he's done in London," said Sutton.
"It's a shame because this guy can time trial, he's up there with the best on his day. He's beaten Brad in a time trial in the Giro, he smashed it out of the park in the Commies, when they thought Dennis, who's one of the top guys in the world, was about to win.
"He's got good pedigree for the Hour, and remember he started here on the boards at the academy. I would have expected Alex to have done a really, really good ride and it's a shame."
Asked by Cycling Weekly whether he thought Dowsett would be able to better Wiggins' distance, should the Movistar rider's attempt be pushed back to after the four time Olympic gold medalist makes his prospective ride in June or July, Sutton appeared uncertain about Dowsett's chances.
"[Dowsett's] time trial pedigree is proven, but an hour on the boards? I'm not so sure whether he could surpass Brad's distance when he puts it down," he said.
"But it could be that Alex puts his distance down before Brad, so he could hold the Hour at some point, I don't know. So we'll just have to wait and see."
Shane Sutton was speaking at the National Cycling Centre at an event held to celebrate the partnership between Lazer Helmets and British Cycling. British cyclists will wear Lazer's bespoke British Cycling WASP AIR aero helmet and Z1 road helmet in the lead up to the 2016 Olympic and Paralympic Games in Rio. Visit the Lazer website for more information.
Thank you for reading 20 articles this month* Join now for unlimited access
Enjoy your first month for just £1 / $1 / €1
*Read 5 free articles per month without a subscription
Join now for unlimited access
Try first month for just £1 / $1 / €1