Shane Sutton's exit won't impact on Rio Olympics, says GB coach Rod Ellingworth
Great Britain coach Rod Ellingworth talks to Cycling Weekly about how Shane Sutton's exit from the GB set-up may affect the team going into the 2016 Olympic Games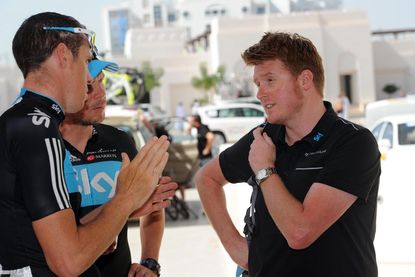 (Image credit: Watson)
Get The Leadout Newsletter
The latest race content, interviews, features, reviews and expert buying guides, direct to your inbox!
Thank you for signing up to The Pick. You will receive a verification email shortly.
There was a problem. Please refresh the page and try again.
Renowned Team GB coach Rod Ellingworth has lamented the controversial exit of British Cycling technical director Shane Sutton but said it won't negatively impact on Rio Olympic aims.
Ellingworth, speaking from the Tour de Yorkshire where he is with Team Sky, was responding to reports of the national body being in crisis after successive days of explosive allegations.
Sutton stepped down on Wednesday after claims of sexism, bullying and inappropriate language toward female and Paralympic athletes were levelled at the long-serving and hardnosed Australian.
The furore was sparked when track sprinter Jess Varnish reacted to being dropped from the sprint programme following performance reviews.
>>> Sir Chris Hoy on Shane Sutton: "I have never met anyone who gave so much"
"I've always said Shane is a hard man, you know, he's renowned for being strict but so many people get a lot from that and that's how he motivates people sometimes," Ellingworth said. "He drives a hard line and I think that's really important as well. I believe in it wholeheartedly. Most of my coaching ethos is what I've learnt from Shane Sutton.
"I've heard him be really tough to the lads but that's part of his job and that's what you have to be to be," he continued. "[Predecessor] Dave Brailsford is a hard guy on the decisions but he has a slightly different approach and a different method because he's a different person. That's how it is."
Ellingworth stopped short of saying British Cycling was at a crisis point less than 100 days out from the Rio Olympics and summarised its turbulent week within a broader context of the nature of professional sport.
>>> How British Cycling's nightmare week unfolded
"It's not a nice time for them," he said. "But it is elite sport and it's been a real successful programme and it will continue to be a successful programme.
"It's not easy to get people performing, trying to get human excellence, and at times the most successful sporting teams are not the happiest places. That's got to be clear, that's the message, it's not just British Cycling.
"What I will say is there is a hell of a lot of good stuff that goes on at British Cycling and the reason why they have got good results is because of that work from coaches," Ellingworth continued.
"Shane Sutton has been absolutely in the heart of that for a long time now so I think for him, from a personal point of view, from me to him, this is a real big blow because Shane is a bloody good coach, excellent coach, world class coach."
>>> Geraint Thomas: Shane Sutton has done more than most for British Cycling
Sutton has not publicly spoken about his exit and there has been speculation that more staff departures could be in the pipeline.
"Shane has proved he's always thinking of the riders first and I think he's done that so he doesn't cause more hassle for anybody," Ellingworth said. "Obviously people are pointing the finger at him."
Ellingworth referred to British Cycling's coach-driven structure when asked if recent events could potentially hurt Rio prospects. He was clear that would not be the case but added Sutton's presence would be missed.
Watch: racing news - Dave Brailsford and Rod Ellingworth
"This is relatively late in the game in terms of Rio so I think in terms of preparation all the coaches know what they are doing," he said. "British Cycling's way of doing it, it's a coach-led programme and head coach Iain Dyer is still doing his job leading into Rio so I don't think there is a lot of change there to be honest. All the programmes have been set, everyone has their way of working and the riders know where we are at.
"The issue is more Shane will be missed in those final moments, that's where his next step would have been, when they're in holding camp," he continued. "That final, there will always be a bike rider who is not feeling as good as they should and Shane is fantastic in those situations, so he will be missed there."
Thank you for reading 20 articles this month* Join now for unlimited access
Enjoy your first month for just £1 / $1 / €1
*Read 5 free articles per month without a subscription
Join now for unlimited access
Try first month for just £1 / $1 / €1
Get The Leadout Newsletter
The latest race content, interviews, features, reviews and expert buying guides, direct to your inbox!
Sophie Smith is an Australian journalist, broadcaster and author of Pain & Privilege: Inside Le Tour. She follows the WorldTour circuit, working for British, Australian and US press, and has covered 10 Tours de France.