Sir Chris Hoy on Shane Sutton: "I have never met anyone who gave so much"
Olympic champion Sir Chris Hoy issues statement on Shane Sutton, saying that his "his uncompromising approach yielded unparalleled results"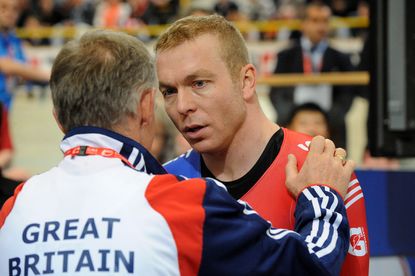 (Image credit: ANDY JONES)
Sir Chris Hoy has given his response to the current situation surrounding former Great Britain coach Shane Sutton, and the set-up of the British cycling team.
Hoy published a statement on his personal website on Thursday, paying tribute to Sutton as someone who 'led by example' and 'yielded unparalleled results'.
Hoy and Sutton worked together during Hoy's time as a track sprinter, during which period he won six Olympic titles. Hoy retired from competitive riding after the 2012 Olympic Games.
Sutton resigned as technical director at British Cycling on Wednesday after being accused of discrimination, and allegations that he made making derogatory comments to female riders and paracyclists.
>>> What you need to know about the British Cycling discrimination scandal
In his statement, Hoy appealed for people to allow an independent investigation by UK Sport into the allegations to run its course and to rally support for the GB team as they head towards the 2016 Olympic Games in Rio in August.
"A lot has been written about Shane Sutton and British Cycling in the media in recent days," wrote Hoy. "Given the seriousness of the allegations of discrimination, I welcome the independent investigation to be conducted by UK Sport and look forward to contributing if asked to do so. I encourage everyone with an interest in the future of British Cycling to do the same.
"I've no intention of providing my opinion on the allegations through the media. With our best cyclists less than 100 days away from competing in the most important event of their careers, all those with something to say need to do so in the right environment and allow our fabulous riders to finish their Olympic and Paralympic preparations without this distraction. I think Andy Harrison will do a great job taking over the technical director role and leading the team in Rio.
>>> Geraint Thomas: Shane Sutton has done more than most for British Cycling
"I do want to pay tribute to Shane for what he's achieved for British Cycling and for me personally over the years. I have never met anyone who gave so much to their role within any team and who cared so much for the performance of the riders. Shane expected 100 per cent commitment from every member of the team regardless of their role and he led by example in that respect.
"As a coach, his uncompromising approach yielded unparalleled results for the GB team and his contribution to my career and the entire British Cycling success story was outstanding. For this, I would like to sincerely thank him.
Watch: Strength and conditioning for beginners
"It's important to recognise that all of British Cycling's success is due to the combined effort of a huge number of people. There is a magnificent support team of coaches and other personnel who provide their expertise and passion to allow the riders to get the best out of themselves. That team remains, and I for one can't wait to proudly watch our Olympic and Paralympic riders representing Great Britain in Rio. Let's all get behind them."
On Wednesday, Team Sky rider and former GB track rider Geraint Thomas issued a statement also paying tribute to Sutton's contribution to British cycling and to his career, saying: "Shane is one of the main reasons I am where I am today. He has always wanted the best for British riders, and gone the extra mile for us. He's done more than most for British Cycling."
Thank you for reading 20 articles this month* Join now for unlimited access
Enjoy your first month for just £1 / $1 / €1
*Read 5 free articles per month without a subscription
Join now for unlimited access
Try first month for just £1 / $1 / €1