What you need to know about the British Cycling discrimination scandal
Shane Sutton has been suspended from his role as technical director at British Cycling pending an internal investigation into allegations of discrimination against him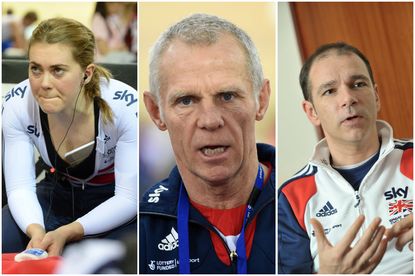 With 100 days to go until the Rio 2016 Olympic Games, British Cycling is in turmoil. The technical director has resigned following claims against him of sexism, bullying and discrimination from former riders in the performance programme.
Shane Sutton, alongside Sir Dave Brailsford, helped lead Britain's cycling revolution as part of the coaching team that masterminded Team GB's medal sprees at the Beijing and London Olympics.
>>> Shane Sutton resigns as British Cycling technical director
But now he finds himself on the outside as the riders undertake their last three months of training before heading to Rio. Here we break down the key details of the scandal and what it could mean for British Cycling.
Who is Shane Sutton?
Born in Moree, New South Wales, Sutton is a former professional cyclist turned cycling coach, who raced at the Tour de France and won Commonwealth Games gold.
In 1978, Sutton won Commonwealth gold in the team pursuit alongside his brother Gary before moving to Britain in 1984. In 1987 he rode for the British-based ANC-Halfords team and was part of the Tour de France squad, before winning the Milk Race in 1990 with the Banana-Falcon team.
He worked as a coach for Welsh Cycling after his retirement before joining British Cycling in 2002. His role as head coach for Team Sky was scaled back in 2013, and when Brailsford left his performance director post with British Cycling, Sutton was promoted to it in 2014.
He resigned his position on April 27, just hours after being suspended by British Cycling.
What is he alleged to have said?
The scandal developed when Jess Varnish was told that she was to be dropped from the British Cycling Olympic programme in April, with Sutton and British Cycling putting this down to a decline in her results in recent years.
Subsequently, 25-year-old Varnish claimed in an interview with the Daily Mail that Sutton told her to "move on and get on with having a baby" when she questioned why her contract was going to be renewed. She also alleges that Sutton told her that her backside was too big to be able to improve her position on the bike for the team sprint.
Furthermore, six-time Paralympic gold medallist Darren Kenny told the Daily Mail on Tuesday (April 26) that Sutton referred to para-cyclists as "gimps" and "wobblies".
"We were tolerated at best. The term used to refer to us was generally "gimps", with another word in front of that. I know others had an issue as well with not being allowed on the track and not being given time to prepare for competitions," Kenny said.
It is also alleged that Sutton was enraged when para-cyclists were deemed to have impeded able-bodied cyclists in a training session on the track, reportedly storming into the office and demanding "Get those f****** gimps off the track".
Who has spoken out against Sutton and British Cycling?
Varnish's claims of sexism and bullying were backed up by Olympic champions Nicole Cooke and Victoria Pendleton, who both say they experienced inequality while part of the British Cycling setup.
Cooke, writing for the Guardian, went as far to say that gender inequality is present at all levels of the sport, not just within British Cycling.
"I have my own personal experiences of Shane and sympathise with Jess. She was in the position so many have found themselves: speak out and your dreams will be destroyed and years of hard work wasted. Or put up with it and hope. I spoke out from the age of 19 and I know what happens," she wrote.
Victoria Pendleton, who won gold at London 2012, told the Telegraph that she experienced sexism among the management at British Cycling, questioning why there weren't any women in any of the biggest positions.
She also claimed that her opinions were not as respected as those of the men, saying that she would sit quietly in meetings because her opinions would be disregarded despite being a senior member of the team.
How has Sutton responded?
Sutton categorically denies the allegations made against him and has spoken in particular about his relationship with Varnish.
When asked in an interview with The Times whether he told Varnish to have a baby, he replied "one hundred per cent no", saying there was not talk of babies in their conversation.
He also denied telling Varnish that her backside was too big: "I have never used the terminology, 'You've got a fat arse.' I'm just really upset she would say that."
Sutton claims he has the backing of several members of the current Great Britain cycling team, including Varnish's former sprint teammates Katy Marchant, Becky James and Vicky Williamson.
What happens now?
British Cycling suspended Sutton pending an "internal investigation into the allegations of discrimination made in the press."
Sutton told The Times that he welcomes the opportunity to tell his side of the story to the investigation panel, claiming he hasn't "been heard properly from day one of this".
Sutton resigned his position, saying he wants the athletes to prepare for Rio without distraction, with British Cycling saying the internal investigation will still go ahead.
Varnish is continuing to train for Rio 2016, despite being dropped from the GB training squad. She says she has been told to prove the coaches wrong, which she intends to do by training in Australia for the next few weeks.
Thank you for reading 20 articles this month* Join now for unlimited access
Enjoy your first month for just £1 / $1 / €1
*Read 5 free articles per month without a subscription
Join now for unlimited access
Try first month for just £1 / $1 / €1