Brailsford: Shane Sutton's job change not due to Sky's anti-doping policy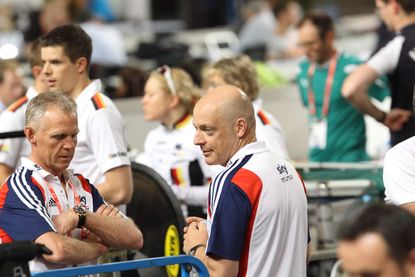 Sky team principal Dave Brailsford has denied that Shane Sutton's switch from being the squad's head coach to taking on a consultancy role was influenced by the team's anti-doping policy.
It was confirmed last week that Sutton had stepped down from the day-to-day position he has held within the set-up since 2010. However, Brailsford insisted that the Australian had not fallen foul of their zero-tolerance stance on drug taking, past and present.
When asked if that was the case, Brailsford categorically replied: "No... What was actually happening in terms of Shane's head coach role is that as the team was evolving he had a title that didn't fit his job. It's making sure that there's clarity and function around job description."
Confirming that Sutton was still on Sky's payroll and that he visited the team's training camp in Majorca last week, Brailsford said: "Sometimes you create a structure and you hope that it works. It's like laying a garden path; you can put your paving stones down where you want people to walk, but actually if there's a shorter way of walking, they will walk where they want to walk.
"It's better to wait for a couple of months to see where people want to go and then put your paving slabs on top of it. With Shane, he worked really closely with Tim and Brad, but across the whole team, his role was superseded by Rod and the support structure in place."
Sutton is currently on holiday and was unavailable for comment on his role change.
Related links
Shane Sutton shifts jobs at Sky
Thank you for reading 10 articles this month* Join now for unlimited access
Enjoy your first month for just £1 / $1 / €1
*Read 5 free articles per month without a subscription
Join now for unlimited access
Try first month for just £1 / $1 / €1
Nick Bull is an NCTJ qualified journalist who has written for a range of titles, as well as being a freelance writer at Beat Media Group, which provides reports for the PA Media wire which is circulated to the likes of the BBC and Eurosport. His work at Cycling Weekly predominantly dealt with professional cycling, and he now holds a role as PR & Digital Manager at SweetSpot Group, which organises the Tour of Britain.