Simmonds podiums in prestigious time trial ahead of Worlds debut
British women's time trial supremo Hayley Simmonds is in good form ahead of her debut World Championships appearance in Richmond.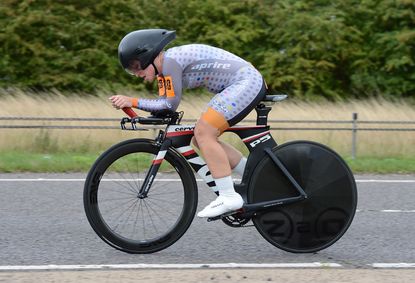 National women's time trial champion Hayley Simmonds warmed up for the World Championships with a meritorious third place at the Chrono Champenois on Sunday.
The Velosport rider flies out to Richmond, Virginia, this week where she will be Great Britain's first women's individual time trial rider since Emma Pooley in 2012.
The RTTC National 10 and 25 champion has enjoyed a breakthrough year on the domestic scene and finished on the podium in the UCI 1.1 33.4km race in Bétheny, France, behind winner Belgian Ann-Sophie Duyck (Topsport Vlaanderen) and second-placed Tiffany Cromwell (Velocio-SRAM).
It is the Cambridge-based rider's third successive appearance at the event, and her result has improved year on year.
"I finished 17th in 2013 and 11th in 2013, 2.22 off the winning time. This year I was only 27 seconds off winning so that's great," Simmonds, 27, told Cycling Weekly.
"I knew I was capable of a good ride and hoped that it would be good enough for a top-five finish. I was pleased to get third."
Her performance in the event is notable, considering who has won the event in the past: Northern Irish cyclist Wendy Houvenaghel won it in 2009 and 2012 and Ellen Van Dijk topped the podium two years ago, to name but two.
Watch: Road helmet vs time trial helmet
Simmonds, a former rower, has competed in various international events during her sporting career, but has never represented her country.
That will change next week when she rides the individual time trial next Tuesday (September 22) and then the women's road race in support of Lizzie Armitstead on Saturday, September 26.
The 30km (18.6 mile) time trial comprises of two laps of 15km circuit that ends with a 300-metre long climb and a 650-metre false flat to the line.
"I don't know the course in detail, only from reading about it on the internet, but it looks relatively flat before the drag to the finish," she added.
"Everyone who is riding the individual event gets to ride it on Saturday for an hour-and-a-half so I'll have a better understanding of it then.
"I'm nervous but excited. I know all the girls well enough to talk to and know Molly Weaver, who was second in the National TT, quite well. I'm looking forward to it."
Thank you for reading 20 articles this month* Join now for unlimited access
Enjoy your first month for just £1 / $1 / €1
*Read 5 free articles per month without a subscription
Join now for unlimited access
Try first month for just £1 / $1 / €1