Sky introduces with new logo for Italian races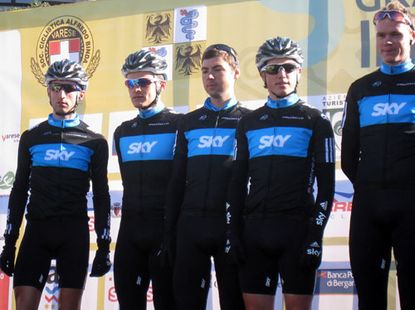 Team Sky introduced a new design to its kit at the GP Insubria in Campione d'Italia, Italy, today. The design, with sharper angles on 'SKY' logo, is to promote Sky Italy and will be worn by the British team in all Italian races.
"It's a small change in the font," said Sports Director Marcus Ljungqvist, "but it was a big change. It meant producing all new kits."
Sky Italy provides satellite TV coverage in Italy and joins Pinarello bikes and Kask helmets as Team Sky's Italian sponsors.
Besides the different font for the Sky logo, the rest of the Adidas team kit remains the same: black with light blue and white highlights.
Sky is fielding a team in the GP Insubria and in the GP Lugano, just over the border from Italy. Ljungqvist directs John-Lee Augustyn, Sylvain Calzati, Dario Cioni, Chris Froome, Peter Kennaugh and Morris Possoni.
Related links
Team Sky publish March race line-ups
Subscribe to CyclingWeekly magazine>>
Subscribe to Cycling Weekly magazine>>
Thank you for reading 5 articles this month* Join now for unlimited access
Enjoy your first month for just £1 / $1 / €1
*Read 5 free articles per month without a subscription
Join now for unlimited access
Try first month for just £1 / $1 / €1