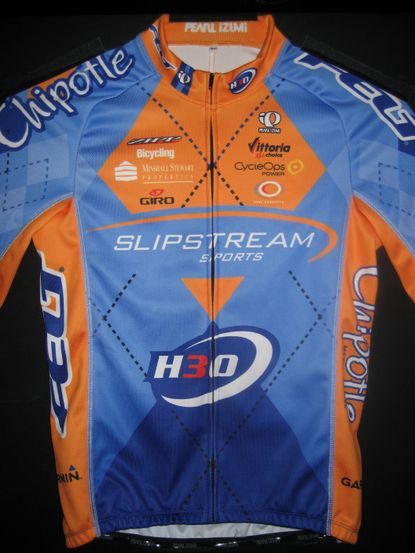 TEAM Slipstream held their official presentation in Boulder, Colorado, on Wednesday evening, and sent out a clear anti-doping message to the cycling world.
Team boss Jonathan Vaughters made an emotional speech to explain the philosophy behind Slipstream, and described the project as the ?future of American cycling.?
?We have to finally kill doping. The reason we are doing this is so that next year I don?t have to talk about it,? he said.
Held in the art deco surroundings of the Boulder Theatre, and attended by a sell-out crowd of cycling enthusiasts, the launch officially presented the 25 riders who will wear Slipstream?s blue and orange Argyle colours in 2008. For the launch, the riders had been kitted out in suits designed by Paul Smith for the occasion.
Vaughters has made some high profile signings over the course of the season, including Tour stage winners David Zabriskie and David Millar, Vuelta stage winner Tom Danielson and Paris-Roubaix winner Magnus Backstedt. The team?s aim is to earn a place at the Tour de France.
The launch showed the pilot for the Sundance Channel?s planned reality television show about the team, and also a specially-made 10-minute feature on David Millar, made by film maker Nigel Dick, who has directed videos for Oasis, Britney Spears and Sting. Filmed in Colorado in two days before the Slipstream camp began last week, the video showed Millar talking about the pressures and weakness that forced him into doping, and about his role in his new team. Millar has been chosen to mentor world junior time trial champion Taylor Phinney, who is racing with the Slipstream Under-23 squad next year.
Vaughters described the team as a ?family?, and a significant number of the riders are young Americans who have formed the backbone of the team in previous seasons.
?I started racing in 1986, and the Colorado cycling community was like a family. It?s something I missed when I turned professional, so this team is the culmination of that desire,? he said.
?This year, we have won races with panache, grit, and by attacking when nobody else would. Whoever won, we have done it as a team. Now we?re going to a bigger level, but our style will remain the same,? he promised.
The official name of the team, which is going to be a real mouthful for non-English-speaking television commentators, will be Slipstream/Chipotle Cycling Team Presented by H3O.
TEAM SLIPSTREAM 2008
Magnus Backstedt (Swe)
Blake Caldwell (USA)
Steven Cozza (USA)
Tom Danielson (USA)
Julian Dean (NZ)
Jason Donald (USA)
Timmy Duggan (USA)
Huub Duyn (Ned)
Lucas Euser (USA)
Tyler Farrar (USA)
Mike Friedman (USA)
Will Frischkorn (USA)
Ryder Hesjedal (Can)
Christophe Laurent (Fra)
Trent Lowe (Aus)
Dan Martin (Ire)
Martijn Maskant (Ned)
Pat McCarty (USA)
David Millar (GB)
Danny Pate (USA)
Killian Patour (Fra)
Tom Peterson (USA)
Chris Sutton (Aus)
Christian Vandevelde (USA)
David Zabriskie (USA)
RELATED LINKS
Blog: Slipstream camp, day four
Blog: Slipstream camp
David Millar joins team-mates at Slipstream
EXTERNAL LINKS
Team Slipstream: www.slipstreamsports.com.
Thank you for reading 10 articles this month* Join now for unlimited access
Enjoy your first month for just £1 / $1 / €1
*Read 5 free articles per month without a subscription
Join now for unlimited access
Try first month for just £1 / $1 / €1
Edward Pickering is a writer and journalist, editor of Pro Cycling and previous deputy editor of Cycle Sport. As well as contributing to Cycling Weekly, he has also written for the likes of the New York Times. His book, The Race Against Time, saw him shortlisted for Best New Writer at the British Sports Book Awards. A self-confessed 'fair weather cyclist', Pickering also enjoys running.