Southam powers to Tour Series win in Colchester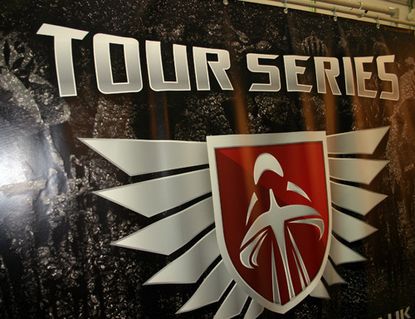 Tom Southam powered to a solo breakaway win for Rapha Condor in Colchester as the Tour Series reached Round 8.
Returning to the event for the first time since riding in the Tour de Beauce in Canada, Southam went clear in the final 10 laps of the long circuit, and held on to win, with Russell Downing winning the following bunch sprint to finish second for Candi TV.
But with neither of those teams able to place three riders in the top ten, Halfords, with riders finishing fourth, fifth and seventh managed to ride out their fourth series win, and extend their lead at the top of the table to four points from Rapha.
"You'd almost want to say that we were there...but, with a couple of rounds to go, you have to be on your guard," confessed Rob Hayles, whose team-mate Ian Wilkinson was slightly less guarded. When asked if he thought Halfords had clinched the series tonight, he answered simply, "Yes."
But Rapha's team manager John Herety believes more is still to come from his outfit, who have found it challenging to balance twin ambitions over recent weeks. "Next week in Chester will be the first time I will have fielded our strongest team", he told Cycling Weekly. Chris Newton and Kristian House, neither of whom rode tonight, are expected to return to action.
The Series concludes next week with two rounds: the first in Chester, on Tuesday night, and then Southend on Thursday.
Highlights of round eight can be seen on Friday night at 7pm on ITV4.
RESULTS

Team Results – Round 8 – Colchester

1. Halfords-Bikehut

2. Rapha–Condor
3. Candi TV–Marshalls Pasta
4. Madison.co.uk
5. Team Corley Cycles
6. Sigma Sport Cycling Team
7. Sports Beans–Wilier
8. Endura Racing
9. BMC UK Racing Team
10. Cyclingbargains.com
Individual Results - Round 8 – Colchester

1. Tom Southam (Rapha-Condor)

2. Russell Downing (Candi TV-Marshalls Pasta)
3. Dean Downing (Rapha-Condor)
4. Ian Wilkinson (Halfords-Bikehut)
5. Rob Hayles (Halfords-Bikehut)
6. Malcolm Elliot (Candi TV-Marshalls Pasta)
7. Ed Clancy (Halfords-Bikehut)
8. Tom Barras (Madison.co.uk)
9. Jeroen Janssen (Madison.co.uk)
10. John Mozely (Madison.co.uk)
Team Standings after Round 8

1. Halfords-Bikehut 77 points

2. Rapha–Condor 73
3. Candi TV–Marshalls Pasta 72
4. Madison.co.uk 69
5. Sigma Sport Cycling Team 42
6. Sports Beans–Wilier 39
7. Team Corley Cycles 35
8. Endura Racing 22
9. Cyclingbargains.com 18
10. BMC UK Racing Team 17
RELATED LINKS
Round seven: Downing take first win in Stoke but Halfords lead
Halfords notch up another Tour Series win in Southport
Hayles defies Downing to take Blackpool Tour Series
Wilkinson wins in Peterborough
Downing claims second Tour Series win in Woking
Dean Downing blasts to victory in Exeter crit
Briggs wins first round of Tour Series
Thank you for reading 20 articles this month* Join now for unlimited access
Enjoy your first month for just £1 / $1 / €1
*Read 5 free articles per month without a subscription
Join now for unlimited access
Try first month for just £1 / $1 / €1