Strava app announced for Apple Watch
Keep track of your athletic achievements on your Apple Watch, with Strava just one of the apps you will be able to download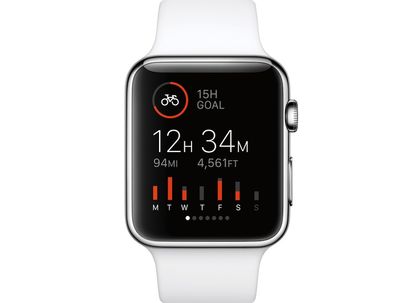 Good news, wearable tech fans! The Strava app is coming to the hotly anticipated Apple Watch – but will it be any good?
The app promises to be an intuitive on-wrist display, providing real-time analysis of your rides or runs and then giving you personalised summaries of your training.
But one of the major issues which could make the watch, not just the app, pretty pointless is that you seem to be required to carry your phone on you when doing such activities to pass the GPS signal through to the watch via Bluetooth.
>>> Strava launches new 2015 clothing range
Strava list these features for the Apple Watch:
• Intuitive on-wrist display: You can track your performance on Apple Watch in real time while keeping your phone tucked away.
• Real-time segments: You'll be able to receive alerts as you approach a starred segment, check elapsed time in the moment, then get instant results at the finish.
• Weekly training progress at a glance: Using Apple Watch's Glances feature, Strava's personalised training dashboard summarises weekly training volume and progress towards your goals.
• Immediate hands-free results: Completed activities automatically sync with Strava and your results are instantly summarised on the Apple Watch display.
• Fast transitions between Ride and Run modes: Multi-sport athletes can easily toggle between modes.
>>> Strava set for global expansion with £11.6million investment
"Apple has shaped the space it operates in by pushing the boundaries of technology and design. Strava has been on a similar journey, connecting a global community of athletes through its innovative products and experience," said Erik Joule, Strava's chief marketing and commerce officer.
Apple Watches reportedly start at £299 when they become available on April 24, while a gold watch can be yours for just £13,500 - £2,500 more than a top of the range Trek Emonda.
Maybe buy both, then the Emonda will look like the more rational purchase, for once…
Thank you for reading 20 articles this month* Join now for unlimited access
Enjoy your first month for just £1 / $1 / €1
*Read 5 free articles per month without a subscription
Join now for unlimited access
Try first month for just £1 / $1 / €1