Strava thread goes viral as riders squabble about 'stealing KOMs' and 'cyber bullying'
When KOM chasing gets serious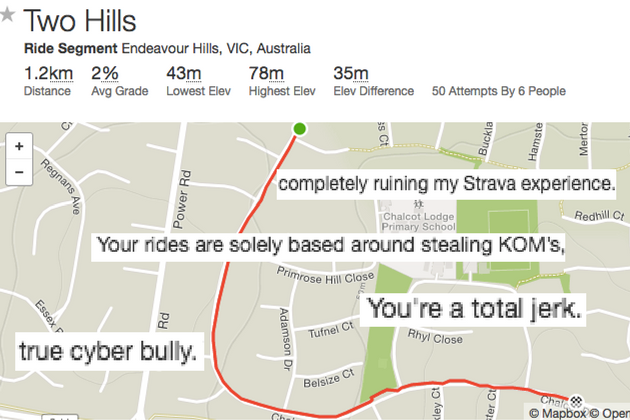 If you're ever tempted to have a heated discussion on Strava, it's worth bearing in mind the potential for it all to go viral, as was the case with one argument between two riders in Australia.
The argument flared up on a fairly inconspicuous 60km ride by a one Scott Bradley, in which he took three KOMs, including that of "Two Hills" - a segment ridden by a grand total of five other people - by 14 seconds over Brendan Edwards.
>>> Are you a Strava addict?
"So what?" you might say, but for Brendan (who has since changed his Strava name to . .) this seemed like the last straw as he accused Scott of "chain attacking" his KOMs, and after receiving a response, called him a "true cyber bully".
At that point, it could have all ended, until another rider, Kent M, decided to get involved and stand up for Brendan.
And after that, all hell broke loose...
After that lengthy comment, Brendan decides to take his leave from the conversation, but the thread continues at length as various other Strava users from around the world weigh in on this important issue.
>>> The nine types of ride we all upload to Strava
Unsurprisingly, this got picked up on Twitter, going viral and allowing even more people to get involved in the debate, and also wonder why this argument was taking place in the first place.
Since taking the prestigious "Two Hills" KOM, Scott has topped the leaderboards of five more segments... although none of them being taking off Brendan.