STRONG BRITISH TEAM FOR WORLD TRACK CHAMPS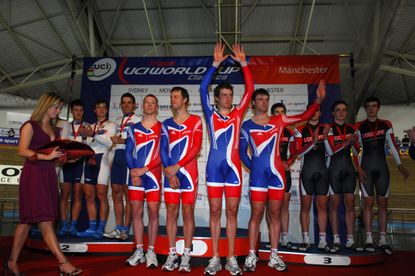 The world track championships start this Thursday and the British team have never looked better. The squad flew in to Majorca last Friday to put the final touches to their preparation on the brand new track that is already running fast.
Virtually every rider in the team is a medal contender, and after their performance at the Manchester world cup last month, they are looking like the team to beat, ?we?re happy,? a slightly guarded Dave Brailsford said on Tuesday morning. After receiving more media interest than ever before, British Cycling?s Performance Director isn?t making too many bold predictions.
?We?re very happy with the times we?ve been doing in training,? he said. ?We know what we want to achieve in timed events. We know what we?re capable of, but the total number of medals is out of our control. We know what we want to do in the team pursuit, but if somebody turns up and goes quicker, then it?s out of our control.?
When the British riders first rolled up at the new track in Palma, the building work was still ongoing, but with extra builders draughted in to work round the clock, everything should be in place come Tuesday morning for all parties concerned. ?There?s still a lot of work to be done to finish it off,? Brailsford said. ?It was a bit of a building site when we first got there, but they?ve made a lot of progress in the last few days. It?s a fantastic venue.?
Their time at the track has been spent focusing on their performance rather than spying on what the other squads are up to, ?We tend to ignore it,? Brailsford said of the other nations. ?We do our own thing and don?t worry about what everyone else is doing. We used to, but we don?t any more. We concentrate on what we can control. Sitting in the stands with a stopwatch checking what the other teams are doing just causes anxiety.
?We can?t rule out that there will be some times that are faster than Manchester, whether that?s good enough for world records, I don?t know. They?re relaxed, they?ve got good moral and they?re ready to race. It couldn?t be better. I think it is one of the strongest teams we?ve ever taken to the worlds.
British Team
Jonny Bellis - Men?s omnium
Ed Clancy - Team pursuit
Rob Hayles - Team pursuit / Madison / individual pursuit
Paul Manning - Team pursuit
Chris Newton - Points race / team pursuit
Geraint Thomas - Team pursuit / Madison
Bradley Wiggins - Individual pursuit / team pursuit / Madison
Matt Crampton - Team sprint
Ross Edgar - Team sprint / individual sprint
Chris Hoy - Team sprint / 1km time trial
Craig MacLean - Team sprint / individual sprint
Jamie Staff - Team sprint / 1km time trial
Katie Curtis - Scratch race
Wendy Houvenhagel - Individual pursuit
Rebecca Romero - Individual pursuit
Anna Blyth - Individual sprint
Victoria Pendleton - Individual sprint / team sprint / Keirin
Shanaze Reade - Team sprint / 500m time trial
Race Schedule
Thursday March 29
Opening ceremony
Men?s Omnium
Women?s team sprint
Men?s individual pursuit
Men?s team sprint
Friday March 30
Men?s team pursuit
Women?s sprint (qualifying)
Women?s individual pursuit
Men?s keirin
Saturday March 31
Men?s sprint (qualifying)
Women?s sprint (final)
Women?s 10km scratch race
Men?s 40km points race
Women?s 500m time trial
Sunday April 1
Men?s sprint (final)
Women?s Keirin
Women?s 25km points race
Men?s 1km time trial
Men?s 50km Madison
Closing ceremony
Television Schedule
Thursday March 29
BBC Interactive LIVE:6pm ? 8.45pm
British Eurosport:5.45pm ? 20.45pm
Eurosport:7.45pm ? 8.30pm
Friday March 30
BBC Interactive LIVE:6pm ? 8.55pm
British Eurosport:5pm ? 8.45pm
Eurosport:6pm ? 8.30pm
Saturday March 31
BBC Interactive LIVE:4pm ? 7.45pm
British Eurosport:3.30pm ? 5pm; 6.45pm ? 8pm
Eurosport:6.45pm ? 9.30pm
Sunday April 1
BBC 2:12.30pm ? 1.45pm; 4.30 ? 6pm
British Eurosport:2pm ? 3.30pm; 4.20pm ? 6.30pm
Eurosport:3.30pm ? 6pm
We'll be covering the World Track Championships in full on www.cyclingweekly.com and in Cycling Weekly magazine, Thursday April 5 issue
Thank you for reading 5 articles this month* Join now for unlimited access
Enjoy your first month for just £1 / $1 / €1
*Read 5 free articles per month without a subscription
Join now for unlimited access
Try first month for just £1 / $1 / €1