Swift chases Eddie Soens Memorial win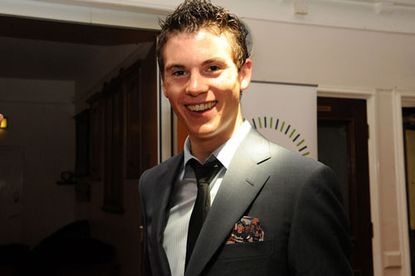 Ben Swift is looking to give Team Sky a winning UK debut in Saturday's Eddie Soens Memorial at Aintree Racecourse.
"I'm quite looking forward to it, Eddie Soens has got a bit of history with it, so it's a good first race [for Sky]," he said.
"I'd like to win it if the chance comes; the legs are better on the track than the road at the minute, but luckily there's no mountains in the Eddie Soens!"
The Rotherham rider is taking time out of his preparation for the Track World Championships to ride the traditional season opener.
"It'll be great to get out on the road. Some of the GB boys were up for it, so I thought it would be a good opportunity to race."
As a one-man band, Swift will do well to beat better-supported colleagues. Some of the big names sharing the scratch group include Dan Fleeman (Team Raleigh) and four-time winner Tony Gibb (CyclePremier.com-Metaltek), as well as GB track team-mates Steven Burke and Ed Clancy of Motorpoint.
"There's been some banter about it, we're just going to enjoy it," he said, referring to his fellow pursuiters. "I've got a good excuse to not work without team-mates. Motorpoint have a strong team, so I'll get them to do most of it."
This year's edition of the Eddie Soens Memorial covers 30 laps of the Aintree course, totalling 49 miles.
The cat-4, women and junior group start at 9.30am, with the scratch group setting off three minutes later.
Subscribe to Cycling Weekly magazine>>
Thank you for reading 20 articles this month* Join now for unlimited access
Enjoy your first month for just £1 / $1 / €1
*Read 5 free articles per month without a subscription
Join now for unlimited access
Try first month for just £1 / $1 / €1