SWIFT TO WEAR CLIMBER'S JERSEY ON HOME ROADS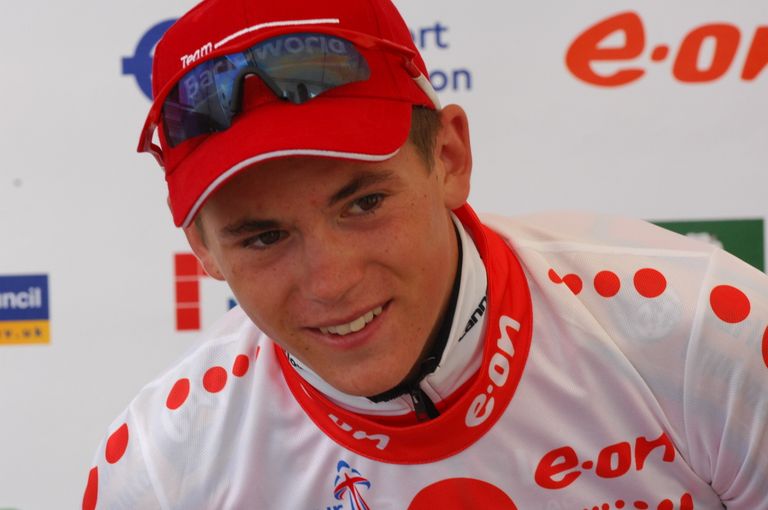 Britain?s Ben Swift (Barloworld) will wear the Tour of Britain climber's jersey on home roads from Rotherham to Bradford on Thursday, after getting in the decisive break on stage three to Wolverhampton.
The 19-year-old finished seventh behind winner Matt Goss (CSC), but he showed his immense talent and tactical ability by taking a clear lead in the climber?s competition.
Swift made sure he was in the break of eight riders that formed after just three miles, and then took maximum points (10) on both of the category one climbs at Malvern Hills and Ankardine Hill. Second at Sutton Bank gave him another three points, and took his total to 31 points. Paul Manning, who was also in the break, is second with 18 points, with Goss third on 16.
If Swift continues to ride strongly he'll be tough to beat in the competition as the race heads to it's finish in Glasgow on Saturday. And he is especially proud to be wearing the red and white jersey during Thursday?s stage four that starts in his home town of Rotherham.
?I was joint third after scoring a few points on Tuesday and so I was looking to get in the move and take full advantage of it,? he said after pulling on the jersey.
?Last night I was thinking about the chance of wearing it for Thursday?s stage, and that gave me a bit more incentive. It?ll be fairly hard to hang on to it because nobody has kept it for more than a day so far, but I?ve got a decent lead now and there aren?t that many tough climbs left in the race.?
Swift lost contact with the break in the finale of the stage, but had already done enough to take the climber?s jersey. He finished 1-52 behind stage winner Goss but was rightly feted as the revelation of the day.