TALES FROM THE BROOMWAGON: SUNDAY & MONDAY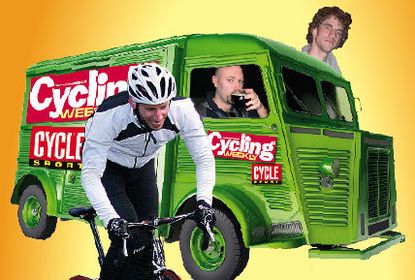 Get The Leadout Newsletter
The latest race content, interviews, features, reviews and expert buying guides, direct to your inbox!
Thank you for signing up to The Pick. You will receive a verification email shortly.
There was a problem. Please refresh the page and try again.
Day 9
Sunday, July 15
Taninges - Tignes
After six nights in the Broomwagon we were looking forward to a night of comfort in a chalet-style apartment we'd managed to book. The woman at the agency we called gave the impression we should thank our lucky stars we'd called at that moment, and not 30 seconds later, because, she assured us, this was the last available room in the whole of Tignes.
This seemed unlikely because when we arrived at the ski resort, which is actually three small towns above, below and beside a rather beautiful lake, there appeared to be hundreds, if not thousands, of chalet buildings.
Although the road up to Tignes may lack the mystique, history and hairpins of Alpe d'Huez, the resort at the top is far, far classier.
The Tour has never been here before, which is surprising considering it's visited just about every other resort spanning this ridge of the Alps. After a dramatic stage, won by Michael Rasmussen, it'll surely be back soon.
Watching the stage unfold reminded me of the mountain stages in the mid-1980s when I first started watching the Tour on television. Although gaps opened up quickly they were not closed down as clinically and, on the whole, no one could sustain an effort for kilometre after kilometre.
The other give-away was the rocking of the shoulders and nodding of the heads. We haven't seen that style in the mountains for a while.
The fact the stage ran to the slowest scheduled time table, at an average of 34.177 kilometres per hour, gives a glimmer of hope that after so many false dawns perhaps the sport has woken up to the fact that the abuse of doping products and regular illegal blood changes could not go on.
Perhaps it is just because I want to see signs of a cleaner sport that I did see them on the road to Tignes but, speaking to other journalists and some of the riders who are open about these things, there does seem to have been a change in the peloton.
After the stage we went to check out our apartment, in Building A of the Rond Point des Pistes block. The accommodation would no doubt suit skiers in the winter, looking for a flat surface to crash out on after a day on the piste and a night on the, er, beers. It would also suit the grubbiest student too. The walls in the lift were carpeted and flecked with dozens of cigarette burns. The corridors were dingy. And the room. My word.
We reckon it was actually smaller than the Broomwagon but with one bonus - it had a proper shower and toilet.
Unfortunately the electricity didn't work and after a quick call to the letting agency they miraculously rustled up an alternative apartment on the second floor. It wasn't any bigger but at least the lights worked.
Pulling a narrow, wafer-thin single mattress out from under the sofa, I contemplated a night of an entirely different discomfort. Then we broke the news to our photographer, Tom, that he'd have to sleep in the Broomwagon. "It's okay, I'll sleep on the floor in the apartment."
"There isn't any space on the floor, honestly."
Dinner was an eye-wateringly fattening affair. We opted for raclette, a posh variation of fondue. I bet in the Seventies, when fondue was all the rage in Home Counties suburbia, that some Jerry and Margot-alikes would have wheeled out a raclette contraption to wow the neighbours with a show of one-upmanship.
A half-moon sized piece of raclette cheese is placed on a rack underneath a heated element. When the top starts to melt, bubble and blister you pull the handle to tilt the cheese towards your plate and scrape the gooey mess onto your dinner.
It was accompanied by boiled potatoes and cold meats.
We barely dented the cheese but by the end I calculated I'd eat nine large boiled potatoes and was beginning to have cheese-related hallucinations.
After a swift digestif of the local speciality, a spirit called Genepie that tastes like stinging nettles and washing up liquid, I went to bed fearing hideous nightmares.
The only nightmare was that I could feel the floor through the mattress. Just before turning off the lights I noticed the picture on our wall. It was a still life of some local cheeses. It guaranteed nightmares.
THE LOWDOWN
Where we stayed: The world's smallest appartment, Tignes?Rating: 0 chalets
What we ate: Melted cheese at Le Savoyarde
Kilometres driven: 137km (1,354km)
Day 10
Monday, July 16
Tignes
At last we had what you could just about call a rest day, or at least a 'rest afternoon'. We resolved to file the work we had to do by lunchtime, then enjoy a few hours off, eat at a sensible hour (anytime before 10pm being a bonus) and get an early night.
I'd had a restless night. Partly it was cheese related, partly it was my decision to sleep in the Bouygues Telecom t-shirt chucked out by the Publicity Caravan. It was made of polyester and must surely have been a fire hazard. Had I any hair on my head it would have been stood on end like the eccentric bloke in the Back to the Future movies, or Vladimir Karpets first thing in the morning.
Having first covered the Tour in 1999, this was the first day that wasn't conducted at a million miles an hour with a vein in my forehead on the verge of pulsing through the skin. But it wasn't without its obstacles. Tom, the photographer, trod dog poo into the Broomwagon and was despatched to clean it up. The lift to the apartment broke. And we discovered too late that the Astana press conference was taking place at a hotel eight kilometres away - too far to walk even on a rest day.
On the upside there was the surreal sight of seeing Johan Museeuw washing his Museeuw Bikes-branded car. We'd have thought he'd have some minions to do that for him.
And, it being rest day, there were plenty of WAGs [riders' wives and girlfriends] about.
There were also some of the saddest cycling groupies I've ever seen. You know the type - wearing 15-year-old team kit, fluorescent sunshades and carrying a rucksack containing a scrapbook with the autograph of every professional rider since 1982.
Fluorescent shades seem to be coming back. David Millar's been wearing some, even though they clash dreadfully with his Saunier Duval kit, and Alexandre Vinokourov has some too - although we'll let him off because they're probably the height of fashion in Kazakhstan - along with those technicolour t-shirts that change colour in the heat, shellsuits and jade green Pierre Cardin cardigans.
That's enough Borat-style humour.
We intended to eat dinner at the L'Escale Blanche by the lake in Tignes but were told the tables inside were all reserved. We sat outside, tried to order from the speciality section of the menu and were told we could only do so if we were sitting inside.
The waiter apologised half-heartedly and I said it was fine and that by now I am accustomed to silly French rules.
We ended up cooking our own dinner - and being charged 23 euros each for the privilege. We opted for the Pierre Chaude, which is basically a do-it-yourself platter of raw meat which you cook, in an array of sauces, on a hot plate brought to the table.
THE LOWDOWN
Where we stayed: The same crummy apartment
Rating: minus 1 chalets
What we ate: Meat, and lots of it
Kilometres driven: a blissful nought
PREVIOUS TALES FROM THE BROOMWAGON:
Saturday, July 14: Fame, fortune and scouring grassy verges
Friday, July 13: Hogged by a sycophantic French television reporter wearing a blue linen jacket
Thursday, July 12: Nearly a week done already. And nothing's gone wrong
Wednesday, July 11: As days following the Tour de France in a lumbering camper van go, Wednesday was about as close to perfect as you can get.
Tuesday, July 10: Back to Pierrefonds, scene of the great missing dinner disaster
Monday, July 9: Half-wheeling, grumpy campsite staff and greasy takeaways
Sunday, July 8: The day when the Tour went to Kent, and the boys went to Ghent
Saturday, July 7: Three men in a sweaty, underpowered van following the Tour
Friday, July 6: Ignore all other imitations - this is the original Idiots In A Camper Van Tour blog
Thank you for reading 20 articles this month* Join now for unlimited access
Enjoy your first month for just £1 / $1 / €1
*Read 5 free articles per month without a subscription
Join now for unlimited access
Try first month for just £1 / $1 / €1
Get The Leadout Newsletter
The latest race content, interviews, features, reviews and expert buying guides, direct to your inbox!
Sports journalist Lionel Birnie has written professionally for Sunday Times, Procycling and of course Cycling Weekly. He is also an author, publisher, and co-founder of The Cycling Podcast. His first experience covering the Tour de France came in 1999, and he has presented The Cycling Podcast with Richard Moore and Daniel Friebe since 2013. He founded Peloton Publishing in 2010 and has ghostwritten and published the autobiography of Sean Kelly, as well as a number of other sports icons.