Tandem duo smash non-stop LEJOG record
Charlie Mitchell and Dominic Irvine break the Land's End to John O'Groats tandem record by a full five hours, beating the record set in 1966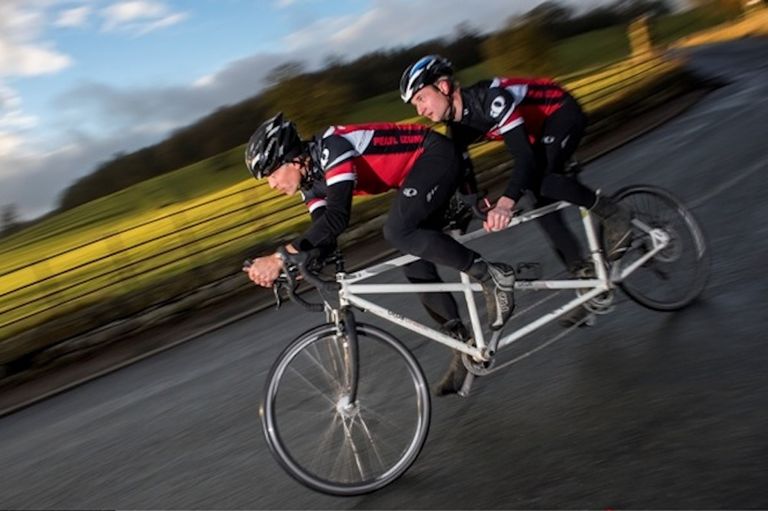 (Image credit: Joolze Dymond)
Hampshire duo Charlie Mitchell and Dominic Irvine have broken the record for cycling non-stop between Land's End and John O'Groats on a tandem, completing the challenge in just over 45 hours.
The pair set off at 6.30am on the morning of Tuesday, May 5, reaching their destination in the early hours of Thursday morning. Completing the challenge in 45 hours, 11 minutes and two seconds, Irvine and Mitchell smashed the 1966 record by five hours.
They are estimated to have burned 22,500 calories each over the 842-mile distance, in which time they averaged a staggering 18.7mp, maxing out at 58mph.
>>> Stop-motion animation of John O'Groats to Land's End ride (video)
Irvine commented: "The last couple of days have been an amazing blend of euphoria, fatigue, camaraderie, along with an enormous sense of achievement. We've been working towards this for years and it's been a privilege to be part of such an incredible team of people.
"Charlie and I were the ones riding the bike, but it really was a team effort and a huge amount of work from everyone has gone into making this record attempt a success."
Irvine, 46, from Alresford, was the captain on the road, in charge of steering and changing gear, while Ovington's Mitchell, 36, was responsible for setting a constant power output from the back seat.
It is a case of third time lucky for Irvine, who has twice tried and failed to break the record previously, but he and Mitchell now have their names in the record books, beating the mark set by Pete Swinden and John Withers nearly 50 years ago.
>>> Jane Moore sets new Land's End to John O' Groats trike record
Nigel Harrison, one of the challenge's support team members, said: "The whole team has worked amazingly well together, overcoming issues including strong headwinds at times, rainstorms, traffic jams and severe fatigue, whilst maintaining totally focussed on keeping one bike, two riders, two vehicles and eight other team members all safe, fed and watered while on the road.
"It's a fantastic feeling to have finally achieved something that we've all worked towards for so long."