Taxi chief says cyclists are like the "ISIS of London"
Licensed Taxi Drivers Association general secretary compared London cyclists to an the Islamic terror group ISIS in a radio interview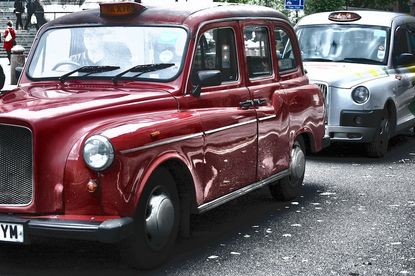 The general secretary of the Licensed Taxi Drivers Association has compared cyclists to Islamic terror group ISIS in a radio rant.
Steve McNamara told London's LBC radio described how the "zealots of the cycling world" have been attacking the LTDA online following their objections to the capitals cycle superhighway plans.
"These people, the zealots of the cycling world, are unbelievable. We have had cyber attacks on our websites," he said on the show.
"They are all over us like a cheap suit on Twitter and social media. We have had physical threats of violence. You name it, we have had it. It's absolutely unreal.
"The loonies out there in the cycling world, they're almost the sort of ISIS of London. Their views and their politics – if you are not with them, and we are with the majority of it, then nothing is too bad for you. These people are unreal."
>>> Is this the most offensive anti-cycling ad yet?
Andrew Gilligan, the Mayor of London's cycling expert, told the Evening Standard's Ross Lydall: "It's a remarkable thing to say and illustrates how badly a few people are getting this issue out of proportion."
McNamara told Lydall after the radio show that he may have "gone too far", but reiterated the fact that he and his organisation have received death threats.
"Perhaps I would accept that was a bit strong. It was a live interview. I have had death threats," he said, adding: "I'm not going to be intimidated. I don't take them seriously. We have not reported anything to the police because I don't think there is anything in them. I think it's just a few loonies, but they really have got a sort of religious zeal."
Thank you for reading 20 articles this month* Join now for unlimited access
Enjoy your first month for just £1 / $1 / €1
*Read 5 free articles per month without a subscription
Join now for unlimited access
Try first month for just £1 / $1 / €1