Team Cervelo's custom build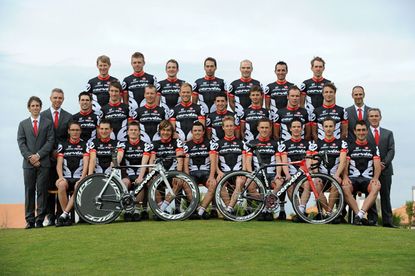 Get The Leadout Newsletter
The latest race content, interviews, features, reviews and expert buying guides, direct to your inbox!
Thank you for signing up to The Pick. You will receive a verification email shortly.
There was a problem. Please refresh the page and try again.
Follow Cycling Weekly on Twitter>>
The new Cervélo team was created in just three months. Cycling Weekly asks founder Gerard Vroomen and team manager Thomas Campana how they pulled it together so quickly.
With several cycling teams folding at the end of last season, you may be forgiven for wondering how the new Cervélo Test Team have appeared and established themselves so rapidly on the professional scene. From small acorns, mighty teams grow and Gerard Vroomen, co-founder of Cervélo, had one such acorn during last year?s Tour de France.
?We began to ask ourselves why we were in cycling during the Tour,? says Vrooman. ?Sponsorship is great and better bikes are created by feedback, so it was logical to create a team focused not just on racing but also on product development.?
Phil White, Vroomen?s co-founder at Cervélo said, ?We?ve always focused Cervélo on what makes sense. With the Test Team, we?re putting our money where our mouth is; it makes the most sense for Cervélo, the bike industry and professional cycling and people will follow us.?
A rather confident statement, but in fact the impetus behind creating such a team came before the Tour began, explains team manager Thomas Campana. ?In June, I took a call asking me whether I thought it would be possible to create a men?s team on a UCI ProContinental level. I said, ?prepare me the budget and give me the kind of tools you need to start something like that?. During the second week of the Tour, I got a call from Vroomen and he said, ?Thomas, we?ll do it?.?
?There was a huge amount of quality riders available and we could just pick and choose?
Concept to concrete
Mid-way through the Tour de France, Carlos Sastre made a verbal commitment to joining the team, thanks in part to a close friendship with Vroomen. ?Carlos was so excited and he said spontaneously, ?I want to be a part of it. I want to enjoy the last two years of my career?,? said Campana. ?I thought, well if this is possible then we have to plan the team in a completely different way.?
Up until the signing of the soon-to-be Tour champion, there was still an intention of running the team as a development squad. ?We agreed to start a modest team and slowly build it up,? said Vroomen, ?but Carlos joined and all of a sudden it wasn?t so modest any more.?
While the initial seeds were being sown, it is important to stress that at this point, knowledge of the team was not yet in the public domain. Rumours began to circulate about the team after the Tour but it was not until just before the Vuelta a España that the team was announced and halfway through the race that Sastre announced his decision to leave CSC, at which point his relationship with Bjarne Riis turned sour.
Although Cervélo had previous experience in running a women?s cycling team, the concept of a men?s team at this point remained exactly that: a concept. Despite this, Sastre committed to a two-year contract with Cervélo and the pace of development began to increase markedly.
From July to September, time was devoted to composing a comprehensive business plan for the team, something that is probably not traditionally associated with a cycling team, but essential nonetheless, says Campana.
Above: Roger Hammond takes the team?s first ever win at the Tour of Qatar
Business plan
?It was clear from the beginning, that if we want a team then we have to organise it like a company. British Cycling is the best example of this. You have to set aside a budget, work on your strengths and weaknesses and then the organisation of the team itself. This is a business project; we?ve obviously got a great passion for cycling, but if you don?t run it like that and without a project manager who is permanently involved, you will not make it. You will start to miss deadlines and start the season without the bus or without the bikes,? Campana explains.
Come September, by which time Sastre had ridden to third overall at the Vuelta, bemoaning the lack of support given to him from CSC team-manager Riis, the team signed Thor Hushovd at the Eurobike show. ?Within the next three weeks, the luck really was in our favour,? explains Campana. ?Crédit Agricole and Gerolsteiner closed and a lot of teams had problems with their sponsors. Suddenly there was a huge amount of high quality riders available and we could just pick and choose them. We picked the riders we wanted and we got them all. In the end, we signed all of these contracts within three weeks.?
At first glance, the line-up for the Cervélo team appears to have been chosen with little consideration and based largely upon the fact that several teams folded at the end of last season, with tens of free agents flooding the transfer market. It is a point that former professional Brian Smith is keen to contradict. With orders from the team?s management to sign only riders without any previous doping scandals, the task fell to Smith to select and sign the majority of the riders.
Speak my language
?The difficult part was finding riders who would work well together and to sign the riders to the team, because we could not say at that point that we had signed Sastre and Hushovd,? Smith explains. Vroomen approached Smith during the Tour de France and asked if he was willing to be involved, a point which is demonstrative of the team?s emphasis to sign not only good riders, but professional staff.
?It was also difficult to find riders who were not just interested in money,? Smith says. ?Some of the riders I initially thought would work well with the team, my thoughts on them soon changed when I talked to them and it became clear that they would not fit well with the team.?
Although English is gradually becoming the lingua franca in the professional peloton, there are still many riders who cannot speak the language; this was a particularly important requirement for the team when selecting its riders. ?It?s unique having such an active relationship with the team?s sponsors,? says Smith, most of which are based in English-speaking countries. The riders are required to act as ambassadors for the sponsors? products, hence the emphasis on proficiency in English.
Above: Thor Hushovd took the team?s first Classic win at Het Nieuwsblad ahead of Kevyn Ista and Juan Antonio Flecha
With the team starting from scratch, the management not only had to find 25 riders willing to sign, but also a professional back-up team of soigneurs, mechanics, doctors and other assorted team staff. ?This was the hardest part, finding them, because I need to rely on their integrity 100 per cent,? said Campana. ?It?s all about the image of the team and they?re working with the riders. That took much longer than signing the riders.?
By this point, the team had signed a host of highly professional riders and team staff, but the infrastructure so critical to the running of a cycling team ? the team buses, the service course and the bikes ? was yet to be arranged.
?We then went through a period of working seven days a week, 14 hours a day to bring the team onto the road,? said Campana. ?This was only possible through working with a small number of highly professional people. We had Theo Maulker from Gerolsteiner, who is a mastermind in organisation; without him the status that we have right now would not have been possible.?
??It?s unique having such an active relationship with the sponsors,? says Smith?
It is not until you sit down with Campana that you realise the myriad of planning that goes into creating a professional cycling team. With the human resources and the infrastructure all but taken care of, the team still had administration concerns, particularly in registering with the UCI. Although, as Campana says, it was not as onerous as might be expected.
?We went through the UCI commission and Alain Rumpf from the ProTour said how professional the team was. It seems we?re doing things properly, but with a small, very professional team, you can do it in three months,? he says matter of factly.
Wheels of good fortune
By November, at the first get-together in Locarno, Cervélo resembled a team that had been on the professional scene for several years, not one that had gone from conception to realisation in a matter of months. With team cars, a website, rider profiles, and an official team kit now in place the squad were raring to go.
?If you look at the equipment and the riders that we?ve got, it?s all pretty impressive,? explained Britain?s Roger Hammond, one of the team?s more experienced riders. ?The riders were all really impressed by how everything was already in place by December of last year.?
Come January, with the team?s official launch and training camp in the Algarve, it had the air of a highly professional outfit; every member of staff had a clearly defined role, with every organisational detail taken care of. Being based in Switzerland has obviously rubbed off.
Renowned to be a forward-thinking company, Cervélo took a fairly sizeable risk in parting ways with CSC and forging its own path. ?Yes, it was a risk,? said Gerard Vroomen. He pauses for a second, before adding, ?but a calculated one?. It?s a risk that is clearly already paying dividends, with the team hitting the ground running in 2009.
RELATED LINKS:
Carlos Sastre: exclusive interview
Cervélo training camp: blog part one
Cervélo training camp: blog part two
Cervélo Test Team launch photos
Thank you for reading 20 articles this month* Join now for unlimited access
Enjoy your first month for just £1 / $1 / €1
*Read 5 free articles per month without a subscription
Join now for unlimited access
Try first month for just £1 / $1 / €1
Get The Leadout Newsletter
The latest race content, interviews, features, reviews and expert buying guides, direct to your inbox!
Founded in 1891, Cycling Weekly and its team of expert journalists brings cyclists in-depth reviews, extensive coverage of both professional and domestic racing, as well as fitness advice and 'brew a cuppa and put your feet up' features. Cycling Weekly serves its audience across a range of platforms, from good old-fashioned print to online journalism, and video.