TfL launches new interactive collision map showing 'safety history' of London streets
The map is designed to improve safety awareness and shows collision history around the capital dating back to 2005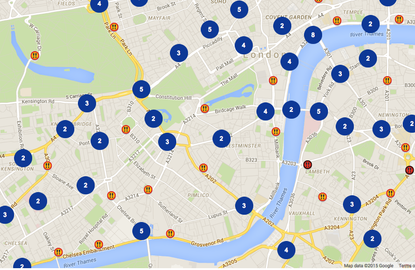 Transport for London has this week launched it's 'London Collision Map', an interactive way for road users to see historic data on incidents around the capital.
The data, collected together by the police and TfL, dates back to 2005 and is according to TfL, is aiding "TfL's commitment to improve transparency for customers and stakeholders."
>>> Chris Boardman explains why cyclists ride two abreast in new safety video
The launch of the collision map comes as the Mayor of London and TfL publish Annual Safety Report for the last 12 months, which they say shows the number of killed or seriously injured fell to it's lowest ever point.
Despite that, a number of protest 'die-ins' have been held around London this year already, with eight cyclists having been killed on London roads in 2015, and 13 the year before.
Watch: Hovding Airbag
TfL says it already uses collision data to make road safety improvements, with a proposed £4bn Road Modernisation Plan, including safer junctions and new segregated and partially-segregated cycle lanes, as well as road safety and cycle training across London's boroughs.
"Safety continues to improve on London's roads, but we are not complacent," said Deputy Mayor for Transport, Isabel Dedring.
"It is a top priority and that's why the Mayor set a new target to bring down the number of people killed or seriously injured even further.
"This map is part and parcel of our drive to improve road safety awareness and complements ongoing work to overhaul and improve London's key roads and junctions."
You can view the new beta version of the collision map by visiting the following link.
Thank you for reading 20 articles this month* Join now for unlimited access
Enjoy your first month for just £1 / $1 / €1
*Read 5 free articles per month without a subscription
Join now for unlimited access
Try first month for just £1 / $1 / €1