The A-Z of a bike ride
Going out for a ride at the weekend is a pretty simple thing, but there are many underlying factors that determine its enjoyment and success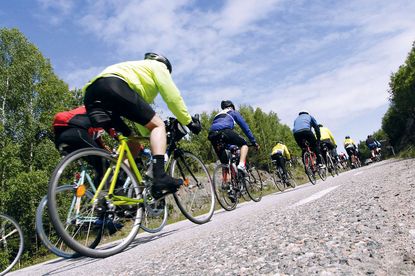 (Image credit: Vatternrundan)
A - Attack: If you have a competitive bone in your body, and most of us do, you'll likely compete with your riding companion along the route. A well-timed attack takes years to hone and you never know when those pro scouts are out on the British country roads to see your power.
B - Bonk: Uh oh, your pre-ride porridge has worn off and those flapjacks you scoffed in the first 10 miles aren't fuelling you any more. Here comes the bonk, and there are few worse feelings in cycling.
C - Coffee: You can't ride without a coffee stop, and that's that. (Honourable mention: Cake)
D - Drafting: Are you the person who sits on someone else's wheel all day, or does someone do it to you?
E - Everest: What every little hill feels like if you're not a natural born climber.
F - Food: Everyone has different beliefs on what makes a good pre-ride meal, whether it's porridge, eggs on toast or just a bowl of cereal. Whatever it is, it's very much recommended.
G - Gradient: However steep the hill was that you climbed on your ride, you add two or three more percentage points when you tell your friends and family about it
H - Hills: Love them or hate them, we all have to ride uphill at one time or another, see G for tips on how to make it sound more impressive.
I - Indicating: You don't just wave your arms to signal that you're going left or right. Indicating to fellow riders of debris in the road or potholes is an important part of cycling.
J - Jersey: Deciding which jersey to put on sometimes knocks a good few minutes off your ride. You've got to look your best on the roads.
K - KoMs: Challenging yourself to smash Strava segments has brought a lot more competition to leisure rides in recent years. What's your KoM count? (Honourable mention: kilometres)
L - Lycra: Everyone gets into cycling saying they won't wear lycra, but as time goes on we just accumulate a wardrobe full of stretchy tight-fitting clothing.
M - Motivation: It's Saturday and it's cold and raining outside. The temptation is to stay in bed and ignore the bike completely. But there's always that little voice that says "it won't be that bad" that makes you get out on the bike.
N - Novices: We were all beginners once, help new cyclists feel welcome on the road so they can feel the joy and pain we experience every weekend.
O - Ordinance Survey: You can use Google Maps all you want, but it's a lot more fun to open up an OS map to find some good roads to cycle along.
P - Punctures: Sometimes emphatic, often unnoticed; punctures are the bain of cyclists worldwide. Learning how to fix one is vital, especially during the winter on the wet and dirty roads.
Q - QoMs: For every KoM there's a QoM!
R - Route: Whether you ride the same roads every week or change it up and go with the flow, the route of your ride can have a dramatic impact on how much you love or hate the ride.
S - Sprints: See that signpost up there? Sprint for it!
T - Tyre levers: See P.
U - Unclipping: You've used clipless pedals for years, but there's still that trepidation at traffic lights that you're not actually going to be able to get your cleats unclipped.
V - Victory: There's no winning on a weekend ride. At least that's what the losers will say. You beat them in the sprints, so celebrate your win.
W - Water: Even with all the new fangled sports drinks available to cyclists these days, it's hard to replace good old water.
X - Cake: You try thinking of something that begins with X...and we all love cake, so it's found its way onto the list.
Y - Youngsters: No matter how old you are, you'll always see a younger rider out on the roads and think "yeah, he's better than I was at that age..."
Z - Zzzzz: That feeling after returning from a long ride and wanting to do nothing but lie on the sofa and doze all afternoon.
Anything we've missed? Let us know on Twitter or Facebook.
Thank you for reading 10 articles this month* Join now for unlimited access
Enjoy your first month for just £1 / $1 / €1
*Read 5 free articles per month without a subscription
Join now for unlimited access
Try first month for just £1 / $1 / €1
Stuart Clarke is a News Associates trained journalist who has worked for the likes of the British Olympic Associate, British Rowing and the England and Wales Cricket Board, and of course Cycling Weekly. His work at Cycling Weekly has focused upon professional racing, following the World Tour races and its characters.