THE BIG INTERVIEW: EMMA POOLEY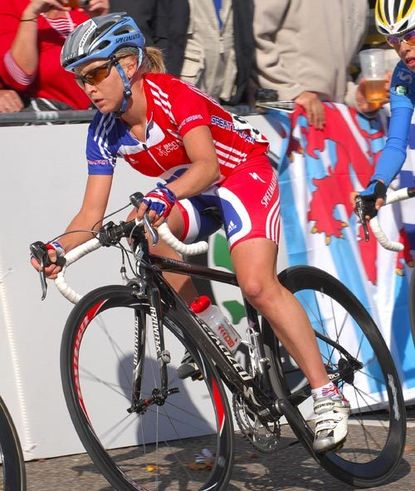 Team Specialized and GB Olympics prospect Emma Pooley is rapidly developing a name for herself as one of female cycling's top climbers - even if less than a year ago she'd become so disillusioned with the sport she'd decided to quit racing.
But in a remarkable turnaround, Pooley took third in the Tour de France this July - where she dropped the entire field on the Tourmalet. And at the World Championships in Stuttgart the 25 year old from Norwich was the only woman to secure top-10 places in both the road race and the time trial events.
Now British Cycling is already talking up her chances of joining Nicole Cooke in the Olympics in Beijing. It's a daunting prospect, but Pooley feels she could be up to the task - and the results are already there to back her up.
CW: How difficult was it for you to turn pro?
EP: It only really happened this spring, although I had done some riding for the Fat Birds squad in 2005 and 2006. But I was living in Zurich, where I'm doing a PhD in soil engineering, and the combination of travelling back and forth to the team headquarters in Belgium, plus work commitments, plus trying to race, was not doing me any good.
On top of that, the racing in Belgium was too flat for a climber like me - in fact I've ended up being a little bit prejudiced towards the country!
I'd known the people who now run Specialized for a while, they'd given me lifts to races sometimes, and after going to Australia last winter I was motivated and fit.
So I ended up signing for them.
And what got you into cycling, and racing, in
the first place?
EP: I started cycling to get over an injury. Then I got fourth in the 2005 Women's Nationals [in only her fourth road race] when I was still a triathlete. I got offers from teams to ride for them as a result and decided to concentrate on cycling. As a triathlete I was too limited by my running to get any good results in any case.
I went to the World Championships in Madrid that year, crashed out, and suffered from concussion. It was disappointing, and then in 2006 I was hoping to do more UCI-classified races and improve, but it was a real struggle.
So what happened then?
EP: I decided to quit. Why bother if I wasn't getting anywhere? But after going to Australia last winter I came back more motivated. I rode the Geelong stage race and World Cup in February as part of the GB squad, crashed out with a knee problem, but then got back into racing as part of Team Specialized in Zurich.
With your new squad the first time you hit the headlines was in the Tour de France this summer, with some strong rides in the Pyrenees and a third place overall. Were you expecting to do such a good ride?
EP: I was pleased with how it went, although I was a bit upset that my descending let me down. On the Tourmalet the front group was down to seven or eight riders, I dropped them and went over the summit with about 1-50 on the chasers.
Two thirds of the way down I was passed by [Nicole Cooke's Raleigh team-mate] Priska Doppmann and then Cooke herself. Then I got back onto Cooke on the Aspin, but she dropped me on the descent and I finally finished third on the stage and third overall [behind Cooke and Doppmann].
If your descending's not your strong point, have you worked on it since then?
EP: Yes, a lot. This summer, my coach Tim Williams from Perfect Condition and I spent a lot of time trying to sort it out.
Would you call the Tour de France the high point of year?
EP: There've been other very good moments, like my stage win in the Tour of Thuringen. I attacked after 40 kilometres and was away for 80. I was away for five climbs, although it all blurred into one big painful episode!
As for the Worlds, were you hoping to put the bad memories of Madrid behind you?
EP: I was surprised that I could do so well, although I did know it was a hilly course which favoured me on paper. The best thing long-term was that the time trial result has guaranteed us one place in the Olympics, and hopefully the women's ranking in the UCI classification at the end of May will give us another.
How realistic are your chances of getting an Olympic ride?
EP: That was the whole reason why I went to Australia, because I thought maybe, if things went well out there, I could get back on track again for Beijing. But I'm also aware that British Cycling won't take me if they don't think I've got a chance of getting a very good result.
What does racing with Nicole Cooke mean to you?
EP: Nicole is a source of inspiration. She's also provided me with a great deal of encouragement at key moments. She's infinitely more experienced than me, and knows what to do and when.
For me, it was motivating at the Worlds to think that if she'd been there, we showed we were strong enough to support her. I think we could have got her up there at the right moments of the race.
Thank you for reading 20 articles this month* Join now for unlimited access
Enjoy your first month for just £1 / $1 / €1
*Read 5 free articles per month without a subscription
Join now for unlimited access
Try first month for just £1 / $1 / €1