THE BIG INTERVIEW: MAGNUS BACKSTEDT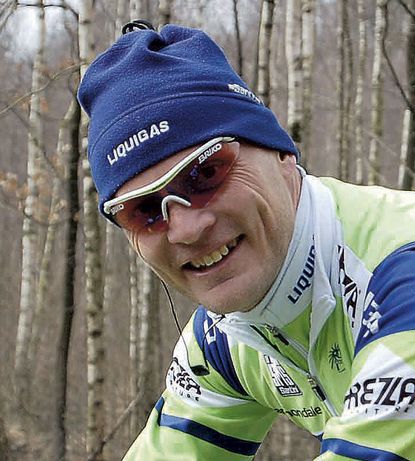 The big mystery back in July was why Sweden?s British-based Tour de France stage winner Magnus Backstedt rode in the Premier Calendar and didn't head for Paris with his Liquigas team-mates.
Ask Backstedt why and he will give you a straight answer: ?I don?t know.? But with some expert probing by CW, 32-year-old Backstedt finds something of an explanation for his absence from the Liquigas outfit.
And, after a hellish 18 months which have included crashes, illnesses and a virus, it is a miracle that he is actually in such good shape that he would even contemplate the tortures of riding the Tour.
CW: Can you tell us what you have been doing?
MB: After Paris-Roubaix, I had a little break from racing. I was supposed to train and get everything lined up for the Tour but I came down with something weird from all the dust I inhaled in the race. It basically put me out for a week and a half, but I got myself going again and was going really well when I went out to the Tour of Catalonia.
What happened there?
MB: We did a team time trial then and I thought we weren?t going very fast but, from what I saw from all the boys when I got to the finish, they were absolutely dead and I felt like I hadn?t touched the pedals yet. I was looking good, but going into the second day something was wrong with my heart-rate. It didn?t go up as high as it should and the third day it was even worse.
So you finished that race then?
MB: I packed up and went home. The team were a bit upset with me and thought I hadn?t prepared properly so I was quite upset with that. When I went home, I had some blood tests and I went to see my guru Matt Rabin down in London. I had Epstein Barr virus, which was the first step on the way to mononucleosis [more commonly known in Britain as glandular fever]. It usually takes between four weeks and three months to clear but, thanks to Matt, we were able to speed up the process.
How did that affect you?
MB: I was sleeping 18 hours a day for four days and, when I woke up, I felt OK again. But the team didn?t understand how serious this was. When I went out to the Dauphiné I had a week and a half on the couch, two days on my bike just riding around and two proper days of training. Then I started the Dauphiné and, obviously, for the first couple of days, I was absolutely hanging ? I couldn?t move. But, because I?d managed to work out such a good base and my general physical condition was good, I was able
to finish the race and I got better
and better.
What happened then?
MB: I came back from the Dauphiné, had a good week of training, went out to do a team time trial in Holland and absolutely flew through that, and then went straight up to Sweden to do the Nationals. I had a couple of days when I was a little bit iffy to start with but still felt good on the bike. But on the Wednesday the team rang me and told me I wasn?t selected for the Tour de France, the day before the National Time Trial Championships.
How did that affect you?
MB: I got rather upset with that because basically, since I found out that the prologue was going to be in London, I?ve been working towards that. I was first reserve so if something happened to a team-mate in the last week, I would have been there but that wasn?t much of a consolation.
So do you think you were treated harshly?
MB: I would think so, yeah. They have told me since the start of the year that I would be doing the Tour de France, which is why I did not try to peak for the Dauphiné or for the Tour of Catalonia. Despite the illness, I was still in the best form I could be in, in time for the start in London.
So was riding the Premier Calendar a way of trying to prove the team wrong on
that selection?
MB: No. I need to race a lot all the time. So right now I?m at the point where there is no racing other than the Tour going on with the team, so the Premier Calendar suited things perfectly. I just wish there were a couple more on this month. At the end of the day, that?s bike racing. It?s a strange sport.
In some way, is there a small compensation in being at home?
MB: I am getting to see my family but it is now almost at the point where they are saying ?go to a training camp or do something?, especially now that the Tour is on. The other day, when they were on the stage which I won in 1998 [to Autun], I was sitting there watching the race, and over and over again they were mentioning my name, with stats, so I got halfway through and I had to turn the television over. One of my team-mates won it [Filippo Pozzato], so that was kind of cool but, at the same time, I would have liked to have been there myself.
Is there any friction then between you and the team?
MB: No more than before. Things haven?t changed at all because of this. I have been professional for 12 years now and sometimes things just go against you. I?ve had two years where everything has been going completely wrong but, when you wake up every morning, you have two choices ? you can either have a good day or a bad day and I choose to make the best out of the situation. Having this 18 months with setbacks has made me mentally stronger than I have ever been.
Since this interview was conducted, Backstedt has signed for the US-based Slipstream-Chipotle team for 2008
Thank you for reading 20 articles this month* Join now for unlimited access
Enjoy your first month for just £1 / $1 / €1
*Read 5 free articles per month without a subscription
Join now for unlimited access
Try first month for just £1 / $1 / €1