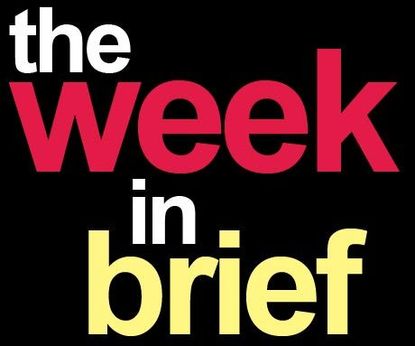 SATURDAY DECEMBER 15 TO FRIDAY DECEMBER 21, 2007
Swipe to scroll horizontally
TOUR DEPART FOR SCOTLAND?
We were first with the news that officials from Scotland had contacted the Tour de France organisers to discuss the possibility of hosting the Grand Départ in the near future. Leon Thompson from EventScotland confirmed talks had taken place.
Full story>>
Swipe to scroll horizontally
Chris Hoy said he wanted to win the team sprint at the Worlds in Manchester but accepted the final three-man squad hasn?t been settled yet. With seven riders realistically in the running we asked ? who would you pick? There?s a similar embarrassment of riches for the team pursuit too.
Full story>>
Swipe to scroll horizontally
CANCELLARA PASSES ON THE PURSUIT
It was good news for Bradley Wiggins when Swiss time trial star Fabian Cancellara admitted he would not be riding the individual pursuit at the Beijing Olympics.
Full story>>
Swipe to scroll horizontally
BELGIAN PRO TEAMS UNVEIL NEW JERSEYS
Silence-Lotto and Quick Step went head-to-head in the fashion stakes, revealing their new kits for 2008. Take a look here.
Quickstep>>
Silence-lotto>>
Swipe to scroll horizontally
HAMMOND REFLECTS ON T-MOBILE?S WITHDRAWAL
We spoke to Roger Hammond about Team High Road and how he heard the news T-Mobile were pulling out?
Full story>>
Swipe to scroll horizontally
Spanish climber Iban Mayo?s ?B? sample from the second rest day of the 2007 Tour de France has - just like the ?A? sample - shown traces of EPO, French newspaper L?Equipe reported on Wednesday. However, testing on the ?B? sample in the French laboratory of Chatenay-Malabry only took place after the results from initial tests on the ?B? sample carried out in Ghent, Belgium, were declared to be illegible. The Spanish Cycling Federation said that under those circumstances the case should be closed, but the UCI thought otherwise and sent part of the ?B? sample of Mayo?s urine to Chatenay-Malabry.
?Re-running the tests was the logical step to take if the ?B? testing in Belgium was unreadable,? the UCI?s lawyer insisted. Logical, perhaps but is it also legal that if a finding in one lab is inconsistent with the first, then the UCI can go back to the original laboratory? Mayo has claimed the UCI are not following their own rule-book by insisting on a re-test, the SCF have refused to re-open the case and the entire affair seems certain to end up at the Court of Arbitration for Sport in Switzerland. ?Even if Mayo wins at CAS, though, his career will be finished,? predicted the Spaniard?s lawyer. Indeed, signing a rider who first tested ?positive?, then ?negative?, then ?positive? again seems a risky move in an era where cycling is permanently under the anti-doping spotlight.
Full story>>
Swipe to scroll horizontally
LEUKEMANS POSITIVE: "I WAS HAVING SEX"
After the latest chapter of the Mayo sample, ?B? tests were the flavour of the week as Bjarne Leukemans, the Predictor-Lotto rider, was confirmed as having failed a random anti-doping test for testosterone. Leukemans had come up with several original reasons for the positive, such as he was having sex when the inspectors came round to visit, or that he has naturally high testosterone in any case. The latest version of events is that it was nothing to do with acts of love or that he?s just a very, very butch guy, in fact a doctor gave him a pill which indirectly caused it all.
Swipe to scroll horizontally
Talking of strange excuses for positives for testosterone, disgraced American rider Floyd Landis - who was stripped of his 2006 Tour title and banned from racing for two years after he failed a doping test for testosterone - has now been barred from racing in France until January 2009 by the French anti-doping authorities (AFLD).
In theory, Landis could have raced in France if he won his appeal to CAS to have his ban over-turned. But the ALFD decision should keep the American off French roads for another year regardless of what gets decided in the court in Switzerland next spring.
Landis, like Leukemans, had come up with some equally bizarre theories to explain his excess of testosterone, including - famously - drinking Jack Daniels whisky the night before he failed the test. Presumably Leukemans could also now suggest a liquid lunch was the ?real?, cast-iron, hand-on-heart reason for too much synthetic testosterone in his system. Or maybe nobody in Belgium drinks crap drinks like Bourbon.
Full story>>
Swipe to scroll horizontally
PHONE USING DRIVERS FACE TWO YEARS IN PRISON
We've all seen drivers chatting merrily away on their mobiles whilst seemingly ignoring everything going on around them on the road - and the fact that they are breaking the law. Well, this week the Crown Prosecution Service announced tougher rules meaning that drivers convicted of dangerous driving while using a mobile phone could face two years in prison.
Full story>>
Swipe to scroll horizontally
Well, okay, we're being a bit forward here, but today is the 'shortest' day of the year. That is, the day with the least amount of daylight hours. Which means that from tomorrow the days start getting longer. Which means that spring is on the way. Which means we can pack away the lights for another year. Almost. We've only got to get through January and February now, the two worst cycling months of the entire year: potholed tarmac, greasy road grime, fat bellies from too much Christmas turkey to work off...
Swipe to scroll horizontally
This week's Cycling Weekly magazine is our annual 128-page Christmas special. The issue is packed with features to keep you entertained over the festive break including:
* 2007 CW Reader Poll results - your fave riders, races, products and more
* Review of the year - highs and lows of a classic season
* Pictures of the year - Andy Jones' pick of the pics
* Tech special - wet weather clothing
* Climb the Ventoux - the ultimate challenge for every cyclist
* Fitness - how to avoid catching a cold
* Rides - Tuscany with Welsh Tour man Geraint Thomas
* Cyclo-sportive - we tackle La Marmotte
* Big interview: Track World Cup medallist Chris Newton
* Plus much, much more...
Cycling Weekly December 20 issue is on sale now from WHSmith, major supermarkets and all good newsagents, priced £3.50.
Full contents list>>
Swipe to scroll horizontally
And finally... season's greetings and happy new year to every one of Cycling Weekly's readers and web users! We hope you have a great Christmas break and get some shiny new kit in your stocking from Santa.
Thank you for reading 20 articles this month* Join now for unlimited access
Enjoy your first month for just £1 / $1 / €1
*Read 5 free articles per month without a subscription
Join now for unlimited access
Try first month for just £1 / $1 / €1