Think you could keep up with the pros on the pavé? Think again
Some scary stats from Strava for the stage nine pavé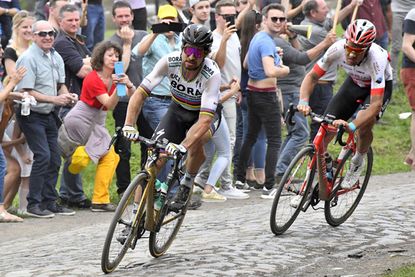 (Image credit: Yuzuru Sunada)
It's always a bit humbling when you see the speeds that pros record on Strava compared to the rest of us.
Now Strava has rubbed it in by crunching the numbers for Strava segments covering three key sectors of the 21.7km of pavé, which is spread over 15 sectors on the route of stage nine. Like the pavé sectors in Paris-Roubaix, the Tour is counting them down from 15 to one as riders approach the stage nine finish line.
First up, the Strava segment from Auchy-lez-Orchies to Bersée (sector nine on the stage nine route). At 2.7km long, KOM Oliver Naesen, now riding for AG2R La Mondiale, rode this with a power output of 370W at an average speed of almost 40kph. That's substantially above the average of 31kph for pros recording their rides on Strava. The rest of us? Not so fast: the average for all attempts over the segment is just 20kph.
What's even more scary is that Naesen recorded this time as part of a little jaunt from Paris to Roubaix on 10 April 2016, a ride of 261km in six hours at an average speed of over 42kph. And he didn't even make top ten in that race.
It's the same story for the 1.3 km Strava segment from Pont-Thibaut to Ennevelin, sector six, although this time the KOM is held by a non-pro, Antoine Loy, with an average speed of almost 42kph. Nevertheless, the average speed for all pros is 33kph, against an average of under 24kph for all attempts.
Back in pro territory for the Camphin-en-Pévèle pavé, sector two. It's a key sector, starting just 17km from the stage nine finish line in Roubaix. The KOM here is Tejay van Garderen of BMC Racing at 41kph exactly. All pros on Strava average just under 32kph over this 1.8km segment, while the average attempt was ridden at just 18.7kph.
And that's just the pros we know about, who log their rides publicly on Strava. There are certainly some equally impressive rides out there that pros and their teams' staff keep to themselves.
Thank you for reading 20 articles this month* Join now for unlimited access
Enjoy your first month for just £1 / $1 / €1
*Read 5 free articles per month without a subscription
Join now for unlimited access
Try first month for just £1 / $1 / €1