Third category rider Bertie Newey wins Eddie Soens road race
Catford-Banks rider Bertie Newey secures victory at Aintree in the 2016 Eddie Soens Memorial Road Race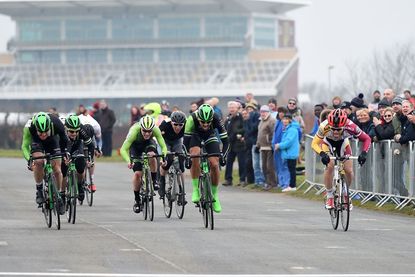 (Image credit: Andy Jones)
Bertie Newey (Catford-Banks) became the first third-category rider to win the Eddie Soens Memorial Road Race on Saturday.
Twenty-one-year-old Newey from Staffordshire out-sprinted the massed ranks of Pedal Heaven RT riders to claim the historic win at Aintree, Merseyside, in the annual early-season event.
Ian Wilkinson (Pedal Heaven) placed second, with team-mate and former hill climb national champion Jack Pullar in third.
Pedal Heaven riders Jacob Tipper and David McGowan completed the top five - making Newey's victory all the more remarkable against such a combined team effort.
Over 130 riders were on the start sheet.
Result
Eddie Soens Memorial Road Race 2016
1. Bertie Newey (Catford-Banks)
2. Ian Wilkinson (Pedal Heaven RT)
3. Jack Pullar (Pedal Heaven RT)
4. Jacob Tipper (Pedal Heaven RT)
5. David McGowan (Pedal Heaven RT)
6. Matthew Nowell (Wheelbase Altura)
7. Simon Wilson (The Nab Racing)
8. Ben Joughin (Pro Vision)
9. Fraser Rounds (BC PM)
10. Benjamin Manfield-Yorke (The Nab Racing) all same time
Thank you for reading 5 articles this month* Join now for unlimited access
Enjoy your first month for just £1 / $1 / €1
*Read 5 free articles per month without a subscription
Join now for unlimited access
Try first month for just £1 / $1 / €1