Three events cancelled at Lincoln Festival of Cycling after organisers' feud
The inaugural Lincoln Sportive is one of three events scratched off the programme for the Festival of Cycling after organisers' legal row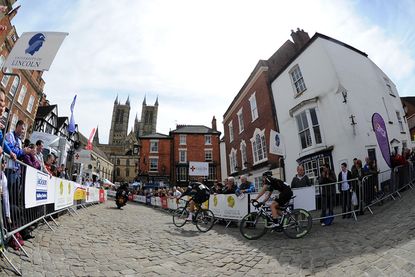 The long-running feud between organisers of sportives in Lincolnshire has led to three events being dropped from the Lincoln Festival of Cycling.
The new Lincoln Sportive has been axed after a dispute between its organiser and that of the Lincoln Grand Prix Sportive. Both sportives were reportedly hosting their events under the Festival of Cycling banner, leading to confusion among potential participants.
Local businessman Dan Ellmore took over the Lincoln Grand Prix and hoped to run a sportive as part of the festival, but ITP Events, organiser of the five-year-old GP Sportive also claimed the right to stage the event on May 14 from Yarborough Leisure Centre.
Following a legal battle, organisers of the festival have said that the Lincoln Criterium, Lincoln Sportive and Lincoln Uphill Dash have been cancelled for 2016.
>>> Ian Emmerson: the man behind 50 years of the Lincoln Grand Prix
Ellmore said in a statement: "The Velo Club Lincoln and the Lincoln Festival of Cycling organisers are left with no other choice despite their unprecedented efforts to reach an agreement with ITP Events regarding the Sportive."
A further group statement added: "A small amount of the event's finances were invested in having solicitors and subsequently London Barristers confirm that The Velo Club Lincoln own the rights to the name 'Lincoln Grand Prix' which as we are all aware is a 60-year-old event.
"Despite this confirmation ITP Events has continued to promote their event as part of the Festival of Cycling weekend and threaten legal action against us, the organisers."
But Ian Penrose, director of ITP Events, insists the company never used 'Festival of Cycling' in its promotions, telling the Lincolnite: "We've run the Lincoln Grand Prix Sportive for the last five years as a separate event, set up as a commercial entity. We've put a lot of time and investment into the event.
"The event has huge commercial value and is well regarded in the market. If someone wanted to take it off me that would have been fine.
"What they can't do however is say 'you've had five years and now we're going to take it'."
>>> Special edition of Lincoln GP sportive to celebrate National Championships visit
He added: "If the situation hadn't been taken with such a confrontational attitude we could have worked together to make more profit and a better experience for the riders.
"I feel like after last year's championships there was potential for a huge marketing launch together and a huge benefit to the local economy. Now the opportunity has been totally ruined. I wouldn't rule out working together in future, but overall negotiations have been bitter."
Thank you for reading 20 articles this month* Join now for unlimited access
Enjoy your first month for just £1 / $1 / €1
*Read 5 free articles per month without a subscription
Join now for unlimited access
Try first month for just £1 / $1 / €1