Time trial champion Josh Teasdale has £20,000 worth of bikes stolen
CCTV footage captures two youths stealing three bikes from Josh Teasdale's garage near Stockton-on-Tees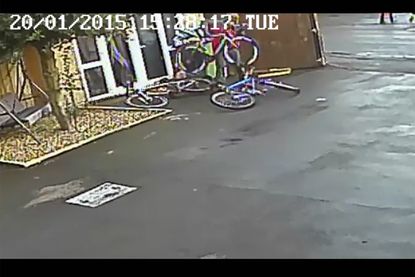 The current Closed Circuit Time Trial British champion has been left without a time trial bike to race on following the theft of two of his bikes.
Josh Teasdale, 21, had both his Scott Plasma and his Scott Plasma TT bike stolen on Tuesday, January 20, from his home near Stockton-on-Tees. A third bike, a red and black Ridley, was also stolen.
A video of the robbery shows how the two teenagers, aged around 16-years-old, entered the premises and callously made off with the bikes in mid-afternoon in front of passing cars.
http://timeInc.brightcove.com.edgesuite.net/rtmp_uds/26996914001/201501/2687/26996914001_4022530251001_Bike-Theft-Facebook.mp4
The youths rode up to the garage, threw a stone to break the garage's glass with one of them entering to retrieve the bikes. Two bikes were brought outside in which one of the youths rode away on his own bike carrying two of the stolen cycles.
The third bike was then wheeled away by the youth who broke into the garage
The incident took place shortly before 3.30pm and the bikes are still missing. Cleveland Police are urging anyone with information to contact DC Will Galloway on 101.
Josh's father, Sean, told the Evening Gazette: "The bikes are worth £20,000 new. It is absolutely devastating.
"Josh is gutted. He had only just won the national championships on one of them. It was a limited edition and we had gone to the Mercedes wind tunnel to get measured up properly for it.
"He can continue road racing but can't take part in time trials because of this."
The Belgium-based rider, competing for Prorace in 2015 and formerly of Terra Footwear, is prolific against the clock. As well as his national title, he won three hill climbs last autumn: Cleveland Wheelers hill climb, Stockton Wheelers hill climb and Holme Valley hill climb.
Thank you for reading 20 articles this month* Join now for unlimited access
Enjoy your first month for just £1 / $1 / €1
*Read 5 free articles per month without a subscription
Join now for unlimited access
Try first month for just £1 / $1 / €1