Tom Simpson's Mont Ventoux memorial back to former glory with help from Thomas De Gendt (video)
Lotto-Soudal's Thomas De Gendt - the last rider to win on Mont Ventoux - helps with constructing some new steps up to the Tom Simpson Memorial on the iconic climb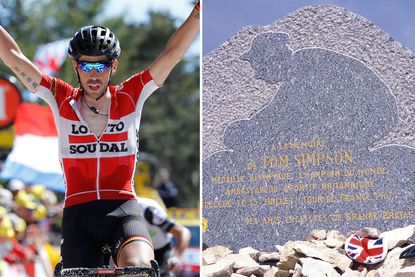 The memorial to Tom Simpson situated on the road to the summit of Mont Ventoux in France has been fully restored, with a little help from pro rider Thomas De Gendt (Lotto-Soudal).
De Gendt was the last rider to win on Mont Ventoux, taking the Tour de France stage 12 victory in July albeit on a shortened version of the original route due to high winds.
It was the high winds and extreme weather conditions on the barren slopes of Ventoux that saw the memorial to British rider Simpson suffer damage in the autumn of 2013.
The memorial stone was re-erected in summer 2014, but the steps were only finished this year.
The memorial had suffered significant damage after a storm in 2013
De Gendt's team sponsor Soudal - manufacturer of adhesives and sealants - provided assistance with the construction of new steps up to the monument.
A video of De Gendt helping out with the repairs was shown during Lotto-Soudal's 2017 team launch.
The memorial was originally erected to mark the spot where Simpson died during the 1967 Tour de France. It was funded via donations from the public after an appeal by Cycling magazine, the forerunner of Cycling Weekly.
Many riders tackling the long and gruelling ascent on Ventoux stop off at the memorial, with some leaving bidons, flowers or other items as a mark of respect to Simpson.
Next year will be the 50th anniversary of Simpson's death.
Thank you for reading 5 articles this month* Join now for unlimited access
Enjoy your first month for just £1 / $1 / €1
*Read 5 free articles per month without a subscription
Join now for unlimited access
Try first month for just £1 / $1 / €1