Tour de France stage to Mont Ventoux is shortened due to high winds
Predicted high winds for Thursday's stage 12 to Mont Ventoux prompt Tour de France organiser to review position of finish line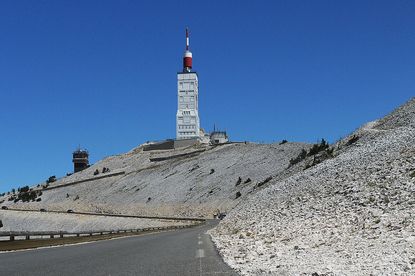 With wind speeds reported of over 100km/h blowing on Mont Ventoux on Wednesday, Tour de France organiser ASO has reviewed the position of the finish line for Thursday's stage.
A decision was made on Wednesday evening to relocate the finish line of stage 12 from the summit of Mont Ventoux to Chalet Reynard, six kilometres further down the mountain and below the protective cover of the tree line.
Race leader Chris Froome (Sky) thinks that the route revision won't change the outcome of the stage: "I don't think it changes too much. Another long stage tomorrow, a lot of wind, it could be split to pieces before the climb. I don't know what will happen, we will see. It will be even more intense, if anything."
"I was looking forward to doing it, but there are gale force winds," continued Froome. "At the end of the day, it's the best thing to do.
"It's too bad for the show and for the fans that want to see it, but the safety of everyone is better. That's the right decision. You can't race in strong winds like that, at 120km/h an hour."
The decision was made to ensure the security and safety of riders.
The top of Ventoux is extremely exposed, with no shelter and a bare, lunar landscape that can cause a sand-blasting effect to anyone travelling up the road to the top.
Chalet Reynard sits at 1453 metres above sea level compared to the summit's 1912m.
>>> Tour de France 2016: Latest news, reports and info
Video footage from a sportive on Mont Ventoux in 2013 when the winds hit 120km/h shows how tough the conditions can get.
https://www.youtube.com/watch?v=rPwAIo0fseM
Crosswinds played a part during Wednesday's stage 11, a flat run from Carcassonne to Monpellier. Froomejoined forces with Peter Sagan (Tinkoff), Geraint Thomas (Sky) and Maciej Bodnar (Tinkoff) to break free from the bunch in the final 10km. Sagan took the victory with Froome placing second and adding valuable seconds to his race lead.
Thank you for reading 20 articles this month* Join now for unlimited access
Enjoy your first month for just £1 / $1 / €1
*Read 5 free articles per month without a subscription
Join now for unlimited access
Try first month for just £1 / $1 / €1