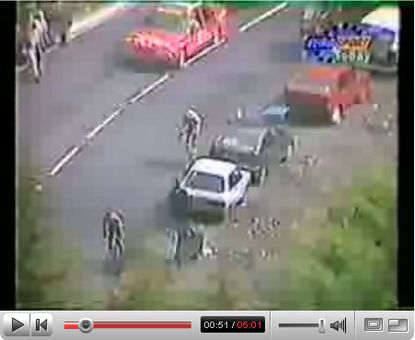 Every website in Britain has done a round-up of clips available on youtube.com, so why shouldn?t we?
Broadcast yourself, it says. Here?s our pick of the popular watches...
10 THE TOUR HURTS
Duration: 3.34
A neat montage that reminds us why cycling is a fantastic sport, set to Johnny Cash singing the song Hurt. Highlights include Stephen Roche being given oxygen at La Plagne in 1987, Bernard Hinault emerging from a camper van with black eyes and a face like thunder after his crash at Saint-Etienne in the 1985 Tour, Joseba Beloki's horrific stack on the road to Gap, and Lance Armstrong getting in a tangle on Luz-Ardiden.
9 PANTANI TAKES FLIGHT
Duration: 5.25
The look on Cédric Vasseur's face as Marco Pantani surges past him on the Col de Peyresourde says it all. Pantani was in a world of his own as a climber. This clip from the 1998 Tour, which the Italian won under the shadow of the Festina affair, shows Pantani as the saviour of a race that had been blighted by a fortnight of scandal. It was also the first time Jan Ullrich was put under pressure in the Tour. Early in the clip, the German attacks and commentators Phil Liggett and Paul Sherwen are convinced, like everyone else, that he was on a good day. Nothing could have been further from the truth.
8 SNOWSTORM IN ITALY
Duration: 4.14
Very little footage of the now legendary day on the Gavia at the 1988 Giro exists because the TV helicopters couldn't fly in the bad weather. But this clip of riders stopping at the summit to put on layer after layer of clothing to offer some protection against the elements shows how bad conditions were. Now the stage would be cancelled but back then, when men were men, they pressed on.
7 HINCAPIE FLIPS
Duration: 3.01
Forget the moment in last year's Paris-Roubaix when George Hincapie's Trek bike collapsed under him (although that clip is also on YouTube somewhere), this was the moment extreme fatigue forced the big American into a ditch. The 2002 edition of the Hell of the North was an epic run through the mud. Johan Museeuw managed to stay upright but several team cars came to grief on the pavé and Hincapie lost it completely. This was also the day when Tom Boonen announced himself to the world by finishing second to Museeuw while riding for US Postal Service.
6 REMEMBER DICKIE DAVIES?
Duration: 7.18
These days there's Eurosport's live coverage, Phil and Paul are on ITV, and there are more live web updates than we care to mention. But 20-odd years ago, a glimpse of the Tour de France on television was a rare and treasured thing. Here is the preview of the 1984 Tour on ITV's World of Sport. A run-down of the favourites and interviews with Stephen Roche and Robert Millar sent every cycling fan in the country scrabbling for a Betamax tape to record it. It amounts to just over seven minutes of dynamite coverage sandwiched between darts from Blackpool and 2CV racing from Lowestoft.
5 LANCE CAUGHT
Duration: 0.29
Remember the look on Ullrich's face when Armstrong passed him on day one of the Tour a couple of years back? Well, Lance would have known exactly how the German felt because back in 1994 he was passed by Miguel Indurain in a time trial. Armstrong, who was reigning world champion, isn't hanging about, but just look at how fast Indurain goes by him. Astonishing.
4 IT'S ROCHE!
Duration: 5.51
Liggett's commentary is legendary and this clip is worth watching for the defeated expression of Pedro Delgado as he accepts his yellow jersey on the podium at La Plagne. Having opened a gap of a minute and a half on the climb, the Spaniard looked to have the 1987 Tour sewn up until Roche fought back and crossed the line just five seconds behind him.
3 LEMOND AGAIN
Duration: 9.11
"Laurent Fignon's worst nightmare has come back to life." The Frenchman, beaten by Greg LeMond by just eight seconds in the Tour de France the previous month, gives a Gallic glare of disgust as the American catches him on the final climb of a superb world title race in Chambéry. Watching LeMond drop him and then sprint to victory over a stellar
lead group, with all the craftiness of a hardened trackie, makes this a must-see clip. Dmitri Konyshev took the silver medal and he's still racing, although he's about 62 now.
2 MAPEI 1-2-3
Duration: 5.01
What makes this clip so amusing is that the three Mapei riders had so obviously decided on the order across the line before they reached the velodrome in Roubaix, but the commentators were still jabbering on about how it was going to be a great three-up sprint.
Russell Williams seems to completely miss the point that they were team-mates until David Duffield announces breathlessly:
"A complete lap of honour - I've never seen anything like it."
1 INDURAIN CRACKS
Duration: 5.01
For five years Miguel Indurain reigned supreme. Some fans were getting rather bored of his dominance but suddenly, one day in July 1996, everyone became a devotee of Big Mig. It was a classic stage of the Tour made all the more memorable for the fact it was the day Indurain cracked. And boy did he blow. But what dignity he showed as he dug deep to limit his losses.
The commentary is great, too:
David Duffield: "Has he got a problem?"
Stephen Roche: "No, no, no. Legs."
It was as if they couldn't quite believe what they were seeing.
Seen a great YouTube clip? Tell everyone about it on the forum!
Still bored? You can see a full selection of videos from last year's Tour de France in our Videos section.
The original version of this article was published in Cycle Sport April 2007
Thank you for reading 10 articles this month* Join now for unlimited access
Enjoy your first month for just £1 / $1 / €1
*Read 5 free articles per month without a subscription
Join now for unlimited access
Try first month for just £1 / $1 / €1
Sports journalist Lionel Birnie has written professionally for Sunday Times, Procycling and of course Cycling Weekly. He is also an author, publisher, and co-founder of The Cycling Podcast. His first experience covering the Tour de France came in 1999, and he has presented The Cycling Podcast with Richard Moore and Daniel Friebe since 2013. He founded Peloton Publishing in 2010 and has ghostwritten and published the autobiography of Sean Kelly, as well as a number of other sports icons.