TOUR 2008: CYCLING WEEKLY RIDES... SUPER-BESSE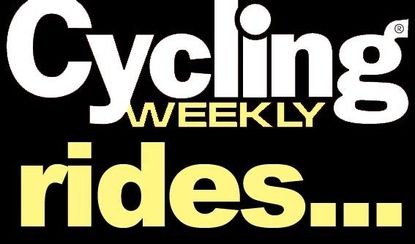 It's all the rage for amateurs to ride the route of the Tour de France these days. There's a whole posse of deranged individuals out there, getting up at four in the morning after sleeping in a tent pitched on a roundabout, and setting off on an eight hour ride.
We're not stupid, though. We've thought of an original twist on the 'ride the route of the Tour' concept. CW's idea? Ride some of the Tour route.
So far, we've ridden most of the Cholet time trial. And last week, I took part in the Marmotte, which means I've got Alpe d'Huez bagged already, two weeks before the Tour even gets there,
Yesterday, we managed the final 50 kilometres of the first stage in the Massif Central, from La Bourboule, over the Col de la Croix Morand and up Super Besse.
It was the hardest day yet in the CW 'ride some of the Tour route' challenge. It was hot, windy and the road rarely missed an opportunity to go uphill.
Perversely, it was uphill all the way to the bottom of the first climb of the day. We crawled from La Bourboule to Mont Dore, and we weren't even on the Croix Morand yet. Even worse, my Garmin is still set to miles per hour, which meant that my average speed would be stuck in single figures for considerable portions of the day.
Next, we crawled up the Croix Morand. Then, thanks to a headwind on the descent, we pretty much crawled down the other side. Stupid Massif Central.
There's nothing like the scenery here, however. The Alps and Pyrenees are beautiful, but obviously so. The quirky outcrops and peaks of the Massif Central are more subtle, and it looks like a pointier, spikier version of Dartmoor.
Between the bottom of the Croix Morand and the final climb, our roadbook showed 15 kilometres of flat. I can exclusively report that it was nothing of the sort. Not only was there a steep kilometre-long climb along the way, on which picnicking Frenchman laughed at us, there were also several kilometres of uphill drag to the bottom of Super Besse.
My ride companion Lionel and I went our separate ways at the bottom. Would it be libellous to write that I weigh less than Lionel and felt it was important people didn't think I was with him? No, I don't think so.
Super Besse isn't that pleasant a climb. It's too wide and open, which means you can see a long way ahead. As with life, being able to see a long way ahead and anticipating only pain and suffering is a bad thing. Not only that, it got ruddy steep through the village of Besse-et-Saint-Anastaise, just where the crowds were thickest. That meant I got laughed at and pointed at again.
I got through the village, up the hill to the short descent, before finally getting stopped by the gendarmes with two kilometres to go. Looking up the road at the dead-straight kilometre of steep road, lined with people who'd enjoy nothing more than taking the piss out of a tired journalist riding his bike very slowly, I wasn't too disappointed.
Meanwhile, Lionel had been stopped by the police just after Besse-et-Saint-Anastaise. What better opportunity for me to freewheel back down, and for us to find a café serving massive sandwiches filled with locally-produced meat products, while watching the stage on television?
Edward
Next: Lionel rides the Tourmalet.
PREVIOUS RIDES
Cycling Weekly rides... Tour de France stage four
Swipe to scroll horizontally
TOUR DE FRANCE 2008: STAGE REPORTS
Stage six: Ricco storms to win
Stage five: Cavendish takes first Tour win
Stage four: Schumacher wins TT and takes race lead
Stage three: Dumoulin wins stage from break
Stage two: Hushovd wins chaotic sprint
Stage one: Valverde wins
Swipe to scroll horizontally
TOUR DE FRANCE 2008: NEWS
Millar to go for yellow [stage six]
Team Columbia's reaction to Cavendish's win [stage five]
Cavendish talks about his Tour stage win
Tour comment: Why Evans should be happy [stage four]
Millar: Still aiming for Tour yellow jersey [stage 4]
Who is Romain Feillu?
Cavendish disappointed with stage two result
Millar too close to Tour yellow jersey
Stage 2 preview: A sprint finish for Cavendish?
Millar happy after gains precious seconds in Plumelec
Valverde delighted with opening Tour stage win
Comment: Is Valverde's win a good thing for the Tour?
Swipe to scroll horizontally
TOUR DE FRANCE 2008: PHOTOS
Swipe to scroll horizontally
TOUR DE FRANCE 2008: GUIDE
Tour de France 2008 homepage>>
News and features>>
All the riders (start list, list of abandons)>>
Tour 2008: Day by day summary
Route & stages>>
Teams and riders>>
About the Tour>>
Thank you for reading 10 articles this month* Join now for unlimited access
Enjoy your first month for just £1 / $1 / €1
*Read 5 free articles per month without a subscription
Join now for unlimited access
Try first month for just £1 / $1 / €1
Edward Pickering is a writer and journalist, editor of Pro Cycling and previous deputy editor of Cycle Sport. As well as contributing to Cycling Weekly, he has also written for the likes of the New York Times. His book, The Race Against Time, saw him shortlisted for Best New Writer at the British Sports Book Awards. A self-confessed 'fair weather cyclist', Pickering also enjoys running.