Tour de France generates £12.5m for Yorkshire borough of Calderdale
Visitors and locals spent £2.8m on accommodation and £9.3m during the Tour de France, with 2% of visitors coming to the borough of Calderdale from overseas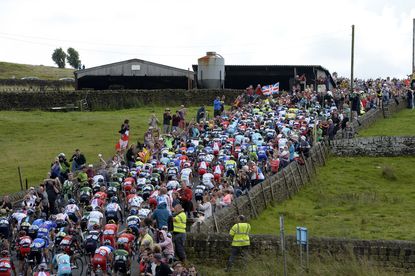 (Image credit: Graham Watson)
The Yorkshire borough of Calderdale benefited to the tune of £12.5m from the Tour de France Grand Départ in 2014, according to research by Welcome to Yorkshire.
The region hosted part of stage two of the Tour, won by Vincenzo Nibali, with an estimated 340,000 people lining the streets of the borough to watch the world's top riders pass by.
According to the Huddersfield Examiner, visitors spent £2.8m on accommodation in the area, while a further £9.3m was spent during the event itself.
Calderdale Council Leader, Clr Stephen Baines told the Examiner: "I'm delighted by these findings, which show the clear benefits that participation in the Tour de France brought to Calderdale. This can be measured both in terms of the immediate impact on our local economy and, in the longer term, the legacy.
"We know there are keen cyclists who will want to tackle the challenges of the route themselves this summer. There are also spectators and viewers who will want to explore our beautiful landscapes and quirky towns, bringing lasting benefits for our tourism industry.
Source: Huddersfield Examiner
Thank you for reading 20 articles this month* Join now for unlimited access
Enjoy your first month for just £1 / $1 / €1
*Read 5 free articles per month without a subscription
Join now for unlimited access
Try first month for just £1 / $1 / €1