Track World Cup kicks off in Manchester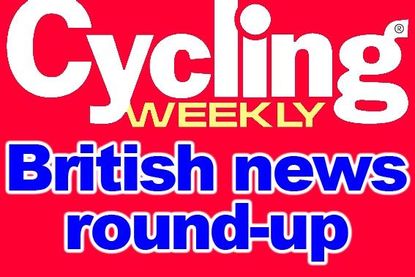 WORLD CUP KICKS OFF IN MANCHESTER
The 2009/2010 Track World Cup kicks off in Manchester today, with Great Britain aiming to score a haul of medals in order to score as many World Championship qualifying points as possible.
Chris Hoy will make his return to the international stage after a long hiatus through injury and will be joined by the likes of Victoria Pendleton - both triple gold-medal-winners from the national championships - Geraint Thomas, Chris Newton, Lizzie Armitstead and Ed Clancy.
Action kicks off today and live coverage can be accessed thanks to the Cycling Weekly team at the velodrome>>>
Today's schedule of events: men's keirin; women's sprint; men's pursuit; women's scratch; men's points race; men's 'kilo'
TV coverage can be accessed on the BBC on the red button from 19:00
EXTRA CYCLE PARKING FOR COMMUTING CYCLISTS - BUT STILL NOT ENOUGH
Double-deck racks providing 233 cycle parking spaces have been installed at Liverpool Street station in London to provide cyclists who want to combine rail travel with cycling a secure place to leave their bikes.
The installation of the two-tier 'double-deck' stands, funded by Transport for London (TfL), has doubled the number of cycle parking spaces at the station from 116 to 233. It follows the installation of 138 additional cycle parking spaces at Euston Station earlier this year yet it still well below the number of spaces found in equivalent railway stations in other European countries, particularly Holland.
Cycle journeys in London have more than doubled in the past decade, with a nine per cent increase in cycle journeys on the city's major roads in the past year alone, but until fairly recently, cycle parking facilities have been woefully poor or absent altogether.
Kulveer Ranger, the Mayor's transport advisor, commented: "The availability of cycle parking plays a major role in helping people decide whether it is convenient to take to two wheels or not. That's why we provided an extra 11,000 spaces last year and why we are spending £1.5m this year on installing more cycle parking in stations such as Liverpool Street. By 2012 we aim to have provided 66,000 new cycle parking spaces across London".
The new cycle parking racks at Liverpool Street station are located in easily visible areas, with CCTV coverage for extra security.
ENTRIES OPEN FOR CYCLONE SPORTIVE
Entries open for next year's Cyclone sportive at 00:00 on Sunday November 1, scheduled for June 11-13 2010.
Those who have already taken part in one or more of the events that make up the weekend can enter at 09:00 on Saturday October 31.
See www.northernrockcyclone.co.uk for more.
QUEEN'S BATON RELAY INDIA BOUND
The Queen's Baton Relay started its journey to the Jawaharlal Nehru Stadium for the Delhi 2010 Commonwealth Games from Buckingham Palace yesterday. The relay remains one of the greatest traditions of the Commonwealth Games, having been the curtain-raiser to every Games since 1958.
The Baton will travel to several high-profile sporting events, including the Manchester Velodrome for the UCI Track World Cup on Saturday.
At 21:15, British Cycling athletes, including Andrew Steele, Shauna Tompson, Laura Massaro and Lauren Tamilla, will ride around the velodrome with the Baton before handing it over to Chris Newton.
The Baton will proceed to travel through all the Commonwealth nations - a journey that will cover a distance of more than 170,000 kilometres in 236 days. On its 100-day national tour, the Baton will visit every Indian state including the capital, Delhi.
FAIERS MAKES PROTOUR LEAP
British rider Tom Faiers will ride for the Spanish Footon-Servetto for the next two years after signing a contract with the ProTour team.
Faiers has become professional after making his own meteoric rise through the amateur ranks.
Read the full story>>>
FEMALE-FRIENDLY COACHING AT HILLINGDON
Female-friendly cycling coaching will be offered at the Hillingdon cycle circuit on Sunday November 15.
Aimed at giving women of all ages and abilities tips and advice, the sessions will be run so that experts can give on and off-bike training.
Read the full story>>>
Thank you for reading 20 articles this month* Join now for unlimited access
Enjoy your first month for just £1 / $1 / €1
*Read 5 free articles per month without a subscription
Join now for unlimited access
Try first month for just £1 / $1 / €1