TRACK WORLDS: SATURDAY AS IT HAPPENED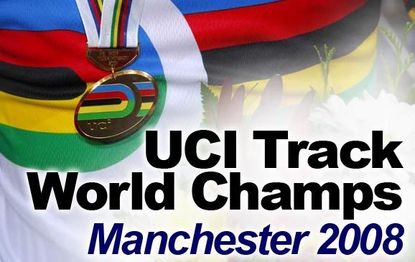 Hopefully you were either at Manchester velodrome to witness another golden day on the track, or you were watching on BBC1.
But here's a recap of what happened on the penultimate day of competition.
Gold for Victoria Pendleton in the sprint - she was unbeaten throughout the competition and must go into tomorrow's Keirin as the favourite.
Gold for Chris Hoy in the Keirin - adding to last night's sprint gold.
And gold for Bradley Wiggins and Mark Cavendish in a superb Madison race in which it looked as if they would be marked out of contention early on. Undeterred they kept going for - and getting - the points, before launching what proved to be a long, dogged, but ultimately successful bid to gain a lap and catapult themselves into the lead.
They're in danger of wearing out the CD that holds the British national anthem at this rate... and we're not done yet. Can Pendleton make it a perfect 10 for Britain on Sunday?
Scroll down for reports
MEDAL TABLE
after four days
1 Great Britain (9 gold, 1 silver, 0 bronze)
2 Belarus (2 gold, 0 silver, 0 bronze)
3 Netherlands (1 gold, 3 silver, 2 bronze)
4 France (1 gold, 2 silver, 2 bronze)
5 Cuba (1 gold, 0 silver, 0 bronze)
6 Denmark (0 gold, 2 silver, 1 bronze)
7 Lithuania (0 gold, 2 silver, 0 bronze)
8 Germany (0 gold, 1 silver, 3 bronze)
9 USA (0 gold, 1 silver, 1 bronze)
10 China (0 gold, 1 silver, 0 bronze)
= Ukraine (0 gold, 1 silver, 0 bronze)
12 Australia (0 gold, 0 silver, 2 bronze)
13 Russia (0 gold, 0 silver, 1 bronze)
= Italy (0 gold, 0 silver, 1 bronze)
= Greece (0 gold, 0 silver, 1 bronze)
MEN'S KEIRIN FINAL
16.25 GOLD FOR HOY That's nine. Nine gold medals for Great Britain. Chris Hoy went from the front, as ever, and held on to beat Teun Mulder (Netherlands) and Christos Volikakis (Greece).
16.20 False start in the men's Keirin. The line-up is Arnaud Tournant (France), Matt Crampton and Chris Hoy (Great Britain), Christos Volikakis (Greece), Toshiaki Fushimi (Japan) and Teun Mulder (Netherlands).
16.19 Jennie Reed took bronze in the women's sprint 2-1 over Shuang Guo. Then Ross Edgar took eighth place in the Keirin ride for 7-12 places.
15.50 The roof nearly lifted off the velodrome when Britain won that Madison, and now the crowd is upstanding as Wiggins and Cavendish have headed over to the back straight to celebrate with their families.
MEN'S MADISON
15.50 THE FINAL SPRINT: GREAT BRITAIN WIN MADISON GOLD Absolutely astonishing, considering the amount of scrutiny they were placed under by the other teams.
15.49 Germany have just gained a lap so the standings with six to go are GB 16pts, Germany 13pts, Denmark 10.
Only GB or Germany can win. It'll be down to the sprint.
15.46 Just when it was starting to look as if Great Britain were going to be chased down and marked every time they made an effort, the GB pair launched an epic attack that seemed to go on for an eternity.
They were the best points scorers but needed the lap to leapfrog from fifth to first. They've just done it and now there are just 10 laps to go.
15.30 More than halfway through the Madison and Denmark, Belgium and Switzerland have taken a lap. Great Britain racing very aggressively and have scored well in the sprints but they are being marked very closely whenever they try to make a move. The problem for GB is that the three teams that have taken a lap are very powerful. Denmark (Michael Morkov and Alex Rasmussen), Belgium (Kenny De Ketele and Iljo Keisse) and Switzerland (Franco Marvulli and Bruno Risi).
Bradley Wiggins and Mark Cavendishcolour> are in action for Great Britain but having just seen the host nation take their seventh gold medal of the championships, it's unlikely the other countries will be allowing any favours.
WOMEN'S SPRINT GOLD MEDAL RACE
Victoria Pendleton colour>does it. Her third sprint title in four years. Simona Krupeckaite had a good gap but Pendleton bore down on her on the back straight and round the final bend.
14.47
WOMEN'S SPRINT BRONZE MEDAL RACE
Jennie Reed (USA) tied with Shuang Guo (China) 1-1
The Chinese rider levels it up in the race for the bronze medal.
14.43
MEN'S KEIRIN SECOND ROUND
Matt Crampton colour> wins his second round heat to join Hoy in the final. Ross Edgar colour> was fourth and just misses out.
Chris Hoy colour> makes it look so easy again to march into final.
14.24
WOMEN'S SPRINT GOLD MEDAL RACE
Victoria Pendleton colour> leads Simona Krupeckaite (Lithuania) 1-0
Race 1: A big win over the second-best sprinter in the competition for Pendleton
WOMEN'S SPRINT BRONZE MEDAL RACE
Jennie Reed (USA) leads Shuang Guo (China) 1-0
WOMEN'S POINTS RACE
RESULTS
1 Marianne Vos (Netherlands) 33pts
2 Trine Schmidt (Denmark) 25pts
3 Vera Carrara (Italy) 20pts
14.15 Nicole Cooke's nemesis on the road, Marianne Vos attacked after the penultimate sprint to make absolutely certain. She soloed away from the bunch and won it in style. Britain's Lizzie Armitsteadcolour> finished in 20th place without scoring a point.
14.05 With 15 laps to go three riders are in the ascendancy. Dutch girl Marianne Vos - who has won road and cyclo-cross world titles - has 28 points, Trine Schmidt (Denmark) has 25 and Italy's Vera Carrara has 20.
I had a great aunt called Vera. It's not a very world champion's name is it?
13.52 Hopefully it'll be a bit more aggressive than the men's race yesterday. Britain's rider is Lizzie Armitsteadcolour>.
MEN'S KEIRIN FIRST ROUND REPECHAGE
13.26 Arnaud Tournant is one of the big names to salvage a place in the second round by getting through in the Last Chance Larry races.
WOMEN'S SPRINT SEMI-FINALS
13.12 PENDLETON REACHES FINALcolour> It'll be Pendleton v Krupeckaite in the final then.
13.10 Simona Krupeckaite (Lithuania) beats Shuang Guo (China) to make it 2-0 and clinch a place in the final.
13.06 PENDLETON CRUISES INTO FINAL Pendletoncolour> makes short work of Jennie Reed in their second match to clinch it 2-0.
MEN'S KEIRIN FIRST ROUND
12.58 Like Hoy and Edgar, Matt Cramptoncolour> lead out. There was a crash between the Malaysian and the Spaniard. Greek rider Christos Voliakis won it. Cramptoncolour> was second, consigning Ryan Bayley, Mickael Bourgain and Stefan Nimke to the repechage.
That's all three British riders safely through to round two.
News reaches us that the Belarus sprinter Natallia Tsylinskaya has a broken collarbone and bruising around the neck after yesterday's crash in the women's sprint.
12.53 Ross Edgarcolour> goes through as the winner of the third heat, ahead of Shane John Kelly of Australia. Kevin Sireau is one of those who has to fight again in the repechage. Matt Cramptoncolour> goes in the fourth and final first round heat.
12.49 Bit of a shock in the second heat. Azizulhasni Awang of Malaysia and Shane Perkins of Australia go through to round two. The big hitters Theo Bos and Arnaud Tournant go into the repechage.
12.43 Any thoughts that Chris Hoycolour> may be feeling the effects of last night's sprint competition are quashed as he takes the first heat of the Keirin in relative comfort. The usual tactic - hit the front and hold them off. No one could get near him.
WOMEN'S SPRINT SEMI-FINALS
12.38 Simona Krupeckaite (Lithuania) goes 1-0 up against Shuang Guo (China)
12.35 Victoria Pendletoncolour> beats Jennie Reed of the USA to go 1-0 up in the best of three clash.
2008 TRACK WORLD CHAMPIONSHIPS: DAILY REPORTS
Sunday, day five>>
Saturday, day four>>
Friday, day three>>
Thursday, day two>>
Wednesday, day one>>
RELATED LINKS
Women's Keirin: Reed denies Pendleton the perfect finish
Who are Brit's golden nine?
Hoy wins the Keirin
Eighth gold for Britain in the Madison
Gold for Pendleton in the sprint
Chris Hoy wins sprint gold
Pursuit women take fifth British gold medal
Jo Rowsell's gold: the toast of Sutton Cycling Club
Belarussian wins men's points race
Britain going for more gold on Friday
Comment: How many more gold for GB?
Hat-trick of golds for Britain
Britain break team pursuit world record
GB into women's team pursuit final
Gold for Romero in individual pursuit
Reade and Pendleton cruise into team sprint final
Track World Champs: results
Romero breaks British pursuit record
It's Britain vs Denmark in team pursuit final
Britain aiming for team pursuit world record
Britain take silver in team sprint
Crowd step in as French anthem stalls
Hayles denies cheating after failing blood test
Wiggins: "I'm pleased I got the job done"
Wiggins wins pursuit gold
Brailsford defends Hayles after failed blood test
Hayles fails pre-race blood test at Track Worlds
Cycling Weekly's 2008 Track World Championships preview
PHOTO GALLERIES
CW's online gallery section>>
Day three in pictures
Day two in pictures
Day one in pictures
Thank you for reading 20 articles this month* Join now for unlimited access
Enjoy your first month for just £1 / $1 / €1
*Read 5 free articles per month without a subscription
Join now for unlimited access
Try first month for just £1 / $1 / €1